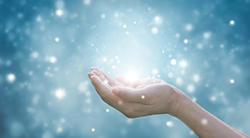 In this week's Torah portion, Balak, the king of Moab, Balak, is afraid that the Israelites' encampment will ravish his land. He sends emissaries to a diviner named Balaam with the intent of hiring him to stop the Israelites. A summary of their encounter demonstrates a classic misunderstanding:
Emissaries: Come with us to curse the Israelites.
Balaam: Let me check with God.
God to Balaam: You can't curse the Israelites; they are already blessed.
Balaam to the emissaries: God won't let me go.
Emissaries to King Balak: Balaam refused to come.
Balak sends the emissaries back with the offer of silver and gold, and whatever Balaam might want. Balaam consults with God again, in case God had a change of mind. This time God says, "If these personages have come to invite you, you may go with them. But whatever I command you, that you shall do" (Numbers 22:20).
Balaam woke up in the morning, saddled his donkey, and took off with the Moabites. Psalms tells us that "God is angered every day" (Psalms 7:12). In Numbers 22:22, we are told God was incensed by Balaam's decision to go. Rashi points out that Balaam was zealous with an evil intent, figuring he could dissuade God, curse the Israelites, and collect payment. He knew God did not approve, but Balaam was greedy and thought he was more powerful than God. Balaam knew he could only see the future, not change it, and he was misleading the Moabites and Midianites, letting them give him more credit for his powers than he deserved.
Regarding God's anger, the Babylonian Talmud (Sanhedrin 105b) cites verses from Isaiah (26:20) and Psalms (30:6) to explain that on any given day, God's anger only lasts a moment. But this is a very important moment. If you can pinpoint the exact moment when God is angry, and then curse someone, the curse will stick. The Talmud says when the deep red color of the comb on a rooster pales, God is angry. So Balaam had a plan. He would watch the rooster and curse the Israelites when the comb paled.
In the Talmudic explanation of Balaam's saga, the entire time Balaam was being traipsed around to try to get a good view to curse the Israelites, God did not get angry. God focused on each word Balaam tried to utter, and flipped the words from curse to blessing. Balaam inadvertently dissuaded God out of his daily moment of anger by getting God to focus on turning curses into blessings.
The Talmud tells us, "He sought to say that the Jews should not have any synagogues or study houses, and to ask that the Divine Presence not rest upon the Jews. Instead, he was forced to say: How goodly are your tents, O Jacob, those places of your spiritual gatherings, and all the places where God's presence dwells among you: Mah tovu ohalecha Ya'akov, u'mishk'notecha Yisrael" (Sanhedrin 105b). In the Torah text Balaam claims that he "knows the mind of the Supreme One" (Numbers 24:16), but the Talmud counters he doesn't even know the mind of his own donkey.
When we just read the Torah text Balaam does not seem so bad. The Moabites and Midianites were concerned about what this huge group of Israelites might do to their land. The king used his resources to hire Balaam. But Jewish tradition has very strong words to say against Balaam as a man who plays into fear in order to increase his own esteem and wealth.
There was a certain heretic who used to harass Rabbi Yehoshua by quoting Torah to prove that Judaism was the wrong path to follow. One day, Rabbi Yehoshua took a rooster, turned it upside down, tied its feet, sat it back up, and stared at it. He said: when the moment comes that the rooster's comb pales, I will curse the heretic. When that moment came, however, Rabbi Yehoshua had dozed off. When he awoke he proclaimed: this is not a proper thing to do. As it says in Proverbs (17:26), "It is not good for a righteous person to attempt to punish" – even a heretic (see Babylonian Talmud, B'rachot 7a).
Not only should a heretic like Balaam not curse the righteous, but also the righteous should not curse a heretic. We are reminded to watch our words, even against those with whom we significantly disagree. In fact, often our heated disagreements can cause us to feel angry. Beautifully, through this parashah and the Talmudic explanations around it, we learn a remedy for anger. Instead of letting our anger overtake us, we can learn from God to become distracted with the work of turning curses into blessings.
Rabbi Vered L. Harris, RJE is the spiritual leader of Temple B'nai Israel in Oklahoma City, OK. She appreciates how our ancient texts continue to speak to our modern experiences.