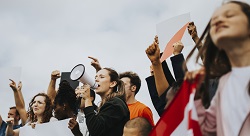 In this week's Torah portion, Ki Tisa, we encounter one of the most troubling episodes in Israelite history and find ourselves, along with generations of commentators, searching for explanations — even excuses — to justify the Israelites' behavior.
Merely steps from Egypt, the land of their enslavement and suffering, and only days removed from the divine miracles that enabled their escape to freedom, the Israelites forget their awesome sense wonder and lapse into impatience, fear, and boredom. With no word from Moses, who is still on up on the mountaintop, the people clamor around Aaron. They demand:
"Come, make us a god (elohim) who shall go before us, for that fellow Moses — the envoy who brought us from the land of Egypt — we do not know what has happened to him." Aaron said to them: "[You men,] take off the gold rings that are on the ears of your wives, your sons, and your daughters, and bring them to me." And all the people took off the gold rings that were in their ears and brought them to Aaron. This he took from them and cast in a mold, and made it into a molten calf. And they exclaimed, "This is your god (elohim), O Israel, who brought you out of the land of Egypt!" (Ex. 32:1-4)
The whole episode is shocking. Could the Israelites really have backtracked so far? Only chapters ago in the narrative they had answered with one voice: "All that Adonai has spoken we will do!" (Ex. 19:8). Now, it seems they are all involved in this egregious act of idolatry — men, women, even children. This is certainly one passage of Torah where we eagerly look to the commentators before us hoping their insights might help us make sense of this troubling text.
Of course, there are many commentaries on this difficult passage, but one that I find to be particularly meaningful is that of Ramban, one of the leading rabbis and scholars of 13th century Spain. Noting that elohim need not be translated as "god," Ramban says:
What they needed was a new "man of God." You can learn from Aaron's excuse to Moses that it is as I have explained: "They said to me, 'Make us a god (elohim) to lead us' — not a god to worship." He explained to Moses: "As long as you were gone, they needed a guide. If you should return, they would leave him and follow you, as they had done at first." In fact, this is exactly what happened. As soon as the people saw Moses, they abandoned the calf contemptuously. (Ramban on Ex. 32:1)
According to Ramban, the Israelites were lamenting the loss of their leader — their guide, their spokesman, their teacher, their role model. Certainly, this is a feeling we can all identify with: the loss of someone we have followed, on whom we have modeled our lives, and who we have revered with respect and admiration. We might feel a profound sense of loss at the death of a loved one who taught us so much. We might feel bereft when distance separates us from a mentor who was once close to us. We might feel disheartened to discover faults in someone we considered to be a hero and while we once sought to model our lives after his or hers, now we are left with a void.
I find Ramban's reading of this difficult passage very comforting. For me, he transforms one of the most inexplicable episodes in our textual history into one of the most recognizable, and, in so doing, he offers important advice for each of us in our own day: Hastening to fashion a leader to fill our immediate needs and soothe our momentary doubts is but another form of idolatry. Judaism's sages have taught: "Seek for yourself a teacher" (Pirkei Avot 1:6). Perhaps this is among the most important journeys of our lives; a quest that requires time and demands patience. And when we find them — teachers, role models, guides along the paths of our lives — we should not hasten to let them go.
Perhaps the biggest error the Israelites committed was succumbing to their doubts that Moses' absence — even his death — would signal the end of his leadership. The poet and freedom fighter Hannah Senesh wrote:
"There are stars whose radiance is visible on earth though they have long been extinct. They are people whose brilliance continues to light the world though they are no longer living. These lights are particularly bright when the night is dark. They light the way for humanity."
May we each find such luminaries to brighten our lives. And, if circumstances should remove their light — whether permanently or temporarily — rather than trying to replace the source of light, may we follow the sparks they left behind within us, growing their light and sharing it with others.
https://reformjudaism.org/learning/torah-study/ki-tisa/why-did-people-de...Rabbi Stephanie M. Alexander is the senior rabbi at Kahal Kadosh Beth Elohim in Charleston, SC. She is a past-president and founding member of the Charleston Area Justice Ministry, a faith-based social justice organization of 29 diverse congregations.