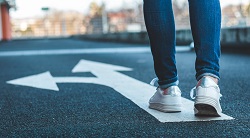 In The Fires of Spring, the late, prolific American author, James Michener, wrote:
"For this is the journey that humans make: to find themselves. If they fail in this, it doesn't matter much what else they find. But if a person happens to find oneself — if they know what they can be depended upon to do, the limits of courage, the positions from which they will no longer retreat, the degree to which they can surrender their inner life to someone, the secret reservoirs of their determination, the extent of their dedication, the depth of their feelings for beauty, their honest and un-postured goals — then they have found a mansion which they can inhabit with dignity all the days of their life." (James Michener, The Fires of Spring [NY: Random House, 1949], p. 488)
Michener's second novel, The Fires of Spring was published in 1949, after the close of World War II. We can surmise that he wrote to a generation of soldiers, now back from war, and to those who toiled on the home front in factories and offices at jobs they might never have imagined. He revealed the voice inside each of them, and each of us; the voice we can hear, if we listen, which suggests at seminal moments in our lives, "you can be more than this."
In this week's parashah, Lech L'cha, we read a similar imperative to find purpose in life, to listen to and live — as your true self. The command to Abram, lech l'cha, comes from the voice of God — a voice that Abram, like many of us, hears in his conscience. It's not a voice that can only be experienced on a mountain top or coming from a ray of light descending from the heavens. It's a voice that echoes in the corners of our minds and is loudest when we stop to listen, but is always there as background music. The voice challenges each one of us to consider: Is this who I am meant to be? Is this what I am called to do? Is this the purpose for which I was created?
In the parashah, we read:
"The Eternal One said to Abram, Go, forth [find yourself] from your land, your birthplace, your father's house, to the land that I will show you. I will make of you a great nation, and I will bless you; I will make your name great, and it shall be a blessing." (Gen. 12:1-2)
A footnote: Though the Torah gives Abram's age as 75 at the time he leaves his father's house (Gen.12:4), age in the Torah is a literary device. Later, the Torah records that Abraham is 175 years old when he dies. Thus, one can place Abraham's relative age in Lech L'cha as late teens or early 20s — the traditional time of self-discovery.
This idea is emphasized by the change in Abram's name to Abraham shortly after he sets out on his journey and makes a covenant with God. Both Abram and his wife Sarai have the letter hei added to their names, becoming Abraham and Sarah, respectively (Gen. 17:1-16). The letter hei is connected to the name of God.
The word (or name) God means something different to each of us. In my experience, the word is like a fingerprint: no two people share the exact same working definition of God. For those of us who struggle with the idea of an omnipotent, intervening, miracle-making being, here's an explanation I learned years ago while working with those in recovery from addiction: G-O-D can be an acronym for the source of "good orderly direction." God is a lodestar, a compass point toward which we, like the biblical Abram, can direct our lives.
The hei is added to Abram and Sarai's names when they accept life direction and purpose from God as they understand that heavenly voice to be. Without a sense of purpose, their names, and therefore their lives, are incomplete.
The 19th-century, orthodox leader, Rabbi Samson Raphael Hirsch, observed:
" ... every individual is directly responsible to God for his/her personal conduct. If it becomes necessary, if the values practiced by the majority are not ones that the individual believes are proper, then the individual must go alone, his own way, with God." (Harvey J. Fields, A Torah Commentary for Our Times: Genesis [NY: UAHC Press, 1990] p. 39-40)
How could we have survived until this day as a people had we not received from Abram the courage to free ourselves from the self-imposed slavery of self-limiting expectations and harnessed dreams? Abram couldn't be Abraham living in his father's house, among familiar surroundings, conducting the life that had been chosen for him.
In finding himself, Abraham found what we are all looking for: a purpose, a reason to get up in the morning that is internally motivated.
In his book, How Will You Measure Your Life? Clayton M. Christenson, a professor at the Harvard School of Business, offers a model of how to make that "should I stay or should I go" decision that confronted Abram, Michener, and all of us, by applying business theory to this eternal dilemma. Christenson explains:
" ... in life, like in business we each have limited resources: time, energy, talent and wealth. With every moment of our time, every decision about how we spend our energy, our talent and our money, we are making a statement about what really matters to us.

"You can talk all you want about having a clear purpose in your life, but ultimately this means nothing if you are not investing the resources you have in a way that is consistent with your purpose. If the decisions you make about where to invest your blood, sweat and tears are not consistent with the person you aspire to be, you'll never become that person." (Clayton M. Christensen, James Allworth, Karen Dillon, How Will You Measure Your Life? [NY: Harper Business, 2012], p. 67)
Abraham's journey and our quest to know ourselves are one and the same. In truth, it's not a journey we take only in our formative years as teens or young professionals; it's a journey we take time and time again. We are on that journey right now, all of us.
To leave your father's house, physically and metaphorically, and go to find your purpose in life is truly to live a life of meaning. Sometimes, as for Abraham and Michener, it means we have to jettison all connections to our past and chart a new course. But other times, our journey of self-discovery is a return home to the source of who we are — a place we may have moved away from over time.
For either journey, Torah is our guide and our road map to a life of meaning and purpose, our good orderly direction. May it be so in our lives and may it lengthen our days.
Rabbi Dan Moskovitz is senior rabbi at Temple Sholom in Vancouver, BC. and author of The Men's Seder (MRJ Publishing). Rabbi Moskovitz is also chair of the Reform Rabbis of Canada. His writings and perspectives on Judaism appear in major print and digital media internationally.