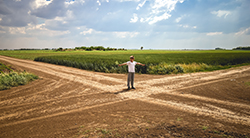 As we approach Parashat Shof'tim, we find ourselves in the middle. Of the 10 Shabbat Torah portions in Deuteronomy, Shof'tim is number five. According to the quinate structure of Deuteronomy outlined in The Torah: A Modern Commentary, revised edition (p. 1,411), Parashat Shof'tim is included in the third section — the middle section. Of the 959 verses in the entire Book of Deuteronomy, the middle verse is in this Torah portion. We seem to have converged upon the center of our text; and indeed, for many, the subject matter of Parashat Shof'tim can and should be at the core of who we are as Jews.
That subject is justice. We read, "Justice, justice shall you pursue," (Deut. 16:20). This is a clarion call to definition and purpose; a clarification of our uniqueness, and an articulation of our responsibility to make that uniqueness manifest in the world. The idea that justice is at the center of who we are as Jews has been voiced and confirmed by many. Rabbi Abraham Joshua Heschel famously taught:
"Judaism is spiritual effrontery... [we must] insist that life involves not only the satisfaction of selfish needs, but also the satisfaction of a divine need for human justice and nobility…Who is a Jew? A person whose integrity decays when unmoved by the knowledge of wrong done to other people." (Heschel, Moral Grandeur and Spiritual Audacity [NY: Farrar, Straus and Giroux], 1996, 2011)
Rabbi Sidney Schwarz argues that our relationship with justice is grounded in our original covenantal understanding with God. He contends that "Abraham truly became the father of the Jewish people when he heeded God's call to adopt a sacred purpose, spreading righteousness and justice in the world (Gen. 18:19)" (Rabbi Sidney Schwarz, Judaism and Justice: The Jewish Passion to Repair the World  [Woodstock, Vt.: Jewish Lights, 2006], pp. 34-35). In referencing Genesis 18:19 and the story of Sodom and Gomorrah, Rabbi Schwarz is emphasizing God's own definition of Abraham's uniqueness — to "teach his children and those who come after him to keep the way of the Eternal, doing what is right and just (emphasis mine), so that the Eternal may fulfill for Abraham all that has been promised him."
The most recent Statement of Principles for Reform Judaism, adopted in 1999 in Pittsburgh, confirms the centrality of justice (tzedek) to our core identity as Jews:
We are obligated to pursue tzedek, justice and righteousness, and to narrow the gap between the affluent and the poor, to act against discrimination and oppression, to pursue peace, to welcome the stranger, to protect the earth's biodiversity and natural resources, and to redeem those in physical, economic and spiritual bondage. In so doing, we reaffirm social action and social justice as a central prophetic focus of traditional Reform Jewish belief and practice. (A Statement of Principles for Reform Judaism, CCAR, Pittsburgh, PA, 1999)
The ideals, and the configurations to implement those ideals, which constitute Parashat Shof'tim, undoubtedly reflect the very heart of our Jewish self-understanding and are therefore appropriately placed at the center of Deuteronomy's narrative — structure and substance aligned in common understanding.
Against the backdrop of this overriding sense of justice as our core, as our center, and as the nucleus of our communal distinctiveness, Parashat Shof'tim also is awash with other musings around this idea of the importance of the middle. The text repeats the word b'kerev, "in the midst of," no fewer than 10 times in various grammatical iterations:
Deuteronomy 17:2 – "If there is found among you (v'kirb'cha) … a man or woman who has affronted the Eternal ... "

Deuteronomy 17:7 – "Thus you will sweep out evil from your midst (mikirbecha)."

Deuteronomy 17:20 – "that he and his descendants may reign long in the midst of Israel (b'kerev Yisrael)."

Deuteronomy 18:15 – "From among your own people (mikirb'cha), the Eternal Your God will raise up for you a prophet like myself ... "

Deuteronomy 18:18 – "I will raise up for them from among (mikerev) their own people a prophet like yourself ... "

Deuteronomy 19:10 – "bringing bloodguilt upon you in (b'kerev) the land ... "

Deuteronomy 19:19 – "Thus you will sweep out evil from your midst (mikirbecha); "

Deuteronomy 19:20 – "such evil things will not again be done in your midst (b'kirbecha)."

Deuteronomy 21:8 – "do not let guilt for the blood of the innocent remain among (b'kerev) Your people Israel."

Deuteronomy 21:9 – "Thus you will remove from your midst (mikirbecha) guilt for the blood of the innocent, ..."
While the straightforward meaning of this word is "among" or "in the middle of" (metaphorically), this particular word also has a deeper meaning. The word b'kerev comes from the root that means "to approach" or "to draw close," but in its noun form, the word can actually mean "inside the human body," "within us," or "at our core." The constant repetition of this word invites us to consider not only our external structure of justice and balance in society, but also our internal, personal balance.
This year, Parashat Shof'tim coincides with the fourth week that we read haftarot of consolation and the beginning of the second of four weeks in the month of Elul. This timeline places Parashat Shof'tim in the middle of two additional structures: a progression of words that emphasize comfort and encouragement, and a progression of time during which we are urged toward profound introspection and honesty. Through the combination of these sequences, we examine our internal balance. We welcome the words of the haftarot that both soothe and bolster us, and we face the task of rooting out the characteristics and predispositions that cause us to misstep. The consistent repetition of b'kerev in Parashat Shof'tim reminds us to consider our middle — our inner selves — and realign our balance. From our midst comes both the best and the worst of ourselves – both the lauded prophet of Deuteronomy 18 and the evil inclinations of Deuteronomy 19.
As we immerse ourselves in a common understanding of our core purpose, as we strive to heed that call to justice and embrace our task to pursue it, may we also remember that our light out onto the world shines from within, deep in the midst of our being.
Cantor Elizabeth Sacks is the senior cantor at Temple Emanuel in Denver, CO.