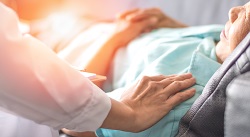 I've never had great knees, but this was a bit much. At 32 years old, I was limping around, struggling to go up and down stairs, and just feeling terrible about it. On Shabbat, walking the Torah around the sanctuary became a challenge, and there was no way to hide it. People noticed. Suddenly, no matter how beautiful my singing or insightful my Torah, the first thing people wanted to talk about was my knees. Even worse, I found myself obsessing about them and ignoring just about everything else. In some crazy way, I became my bad knees. Thankfully, surgery and physical therapy helped and I have long since recovered. The most important lesson I learned from my bad knees is one that I see reflected in this week's Torah portion.
Parashat Tazria-M'tzora teaches us about our physicality; its focus is on the skin, hair, fluids, and organs that make up our bodies. We learn how out of our control those things can be and we gain some insight into our relationships with those entrusted with our care.
Famously focused on skin afflictions, this parashah describes, in explicit and sometimes grotesque detail, the procedures for when a person appears to have tzaraat, an ailment that was mistranslated as leprosy for many years. Over and over, the Torah repeats that in the midst of whatever is happening to the skin, the priest will come to see the affliction. This word "to see" (ra-ah, in Hebrew), comes up nine times in one form or another in just the first eight verses of Leviticus, chapter 13. Throughout the generations, Sages and commentators have noticed that some of these "seeings" seem to be extra. Since no word in the Torah can ever be superfluous, they have imaginatively come up with different interpretations that extend our understandings of sight. 
The Sifra, an early midrashic work on Leviticus, understands the extra instance of seeing at the end of Leviticus 13:3 ("the priest shall examine the affection ... when the priest sees it") to mean that the priest sees "the whole person as one" (Sifra Tazria 2:8). While the Sifra's original intention for this statement was quite technical in nature, our understanding of it need not be. While inspecting the skin eruptions and other maladies the Torah describes, the priests, who we usually associate with Temple service, seem to be acting like doctors. They are responsible for proper diagnosis, for continuing evaluation throughout the healing process, and for enforcement of quarantine to contain further contagion. I have always imagined, on top of those duties specified explicitly in the Torah, that they also served a direct role in healing the afflicted. Viewing the priest as a doctor, I hear the Sifra reminding each kohein (priest) to look beyond the rashes and skin eruptions, and see the whole person as one.
We are, each of us, so much more than our afflictions. When we are seen in the right way, this Torah teaches, we can overcome the transactional nature of medical care and find the sacred at every stage of illness and the hopeful return to health.
In 1964, Abraham Joshua Heschel delivered a paper entitled "The Patient as a Person" at the annual convention of the American Medical Association. Published later as a chapter in an incredible book called, "The Insecurity of Freedom, Essays on Human Existence." this remarkable (and brief) statement of principles for healthcare reminds both patients and doctors that they need to "see" each other:
"The doctor is not simply a dispenser of drugs, a computer that speaks. In treating a patient [they are] morally involved. What transpires between doctor and patient is more than a commercial transaction, more than a professional relationship between a specimen of the human species and a member of the American Medical Association. Medicine is not simply merchandise, and the relationship between doctor and patient is blasphemously distorted when conceived primarily in terms of economics: the doctor a merchant, the patient a consumer. What comes to pass in the doctor's office is a profoundly human association, involving concern, trust, responsibility." ("The Patient as a Person," in "The Insecurity of Freedom: Essays on Human Existence" [NY: Farrar, Straus and Giroux, 1966], p. 31)
Too often, patients and doctors fail to see each other as "whole people." We too quickly descend into what Martin Buber called "I-It" relationships; into something, in Heschel's terms, that is "blasphemously distorted" from the sacred potential of an authentic human moment between a healer and one in need of healing. When medicine is just one more transaction in our life, no different from buying dish detergent, then neither doctor nor patient can see each other.
Seeing, our Torah teaches, can be a way to reaffirm a person's humanity, but there is also a way of looking that directs all attention to the afflictions that plague us. If, rather than seeing a whole person, I see only legs in a wheelchair, the cancer I heard a rumor about, or perhaps some kind of rash or other skin affliction, I'm missing a lot. Those things are there and are real — but the rest of the person is not less real. We must recommit ourselves to the priestly way of seeing which, while acknowledging and sometimes helping with whatever the malady, also restores humanity.
Heschel concluded his paper with a harsh assertion that is perhaps even more true today than it was in 1964: "Eclipse of sensitivity is the mark of our age. Callousness expands at the rate of nuclear energy, while moral sensitivity subsides" (ibid., p. 37). In Parashat Tazria-M'tzora there are hundreds of chances for the priest to stare, gape, and gawk at the human body in its frailness and vulnerability. In our daily lives, each of us encounter this even more. To respond instead with true sight, with moral sensitivity, takes active commitment and conscious effort. "The calling and conduct of the doctor is care for others, and the meeting of doctor and patient is a supreme occasion for being human" (ibid. pp. 37-38) writes Heschel. When I became my bad knees, I felt profoundly less human. We are, all of us, healers, and we are, all of us, in need of healing. May our encounters, our opportunities to "see" each other, be, like the priest's visits in the Torah, supreme occasions for being human together.
Cantor David Berger serves as the cantor of KAM Isaiah Israel Congregation in Chicago, IL. Currently pursuing his Ph.D. at the Chicago Theological Seminary, he is honored to be the inaugural Scholar in Residence for the American Conference of Cantors.