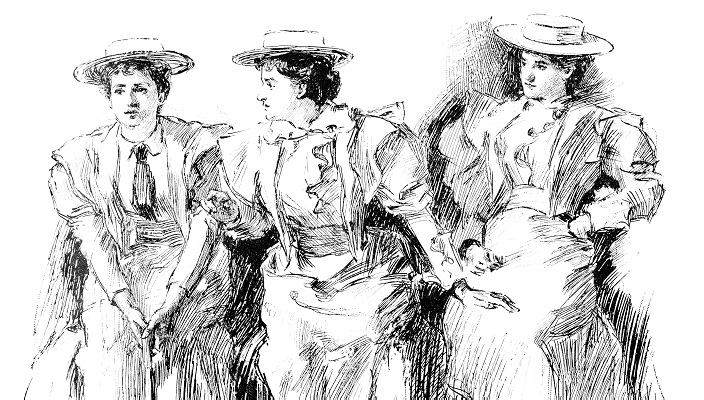 To celebrate the 100th anniversary of women's suffrage in the United States this year, Rabbi Carole Balin, Ph.D., is sharing eight chapters of an "alternative Book of Numbers" designed to tell the stories of Jewish women who combined civic engagement with Jewish values in a 40-year struggle "in the wilderness" to pass the 19th Amendment.​ Learn more in her introductory essay, a commentary on Parashat B'midbar.
Chapter 5: Rabble-Rousers in White Dresses
No biblical character personifies rebellion like Korach, whose eponymous Torah portion Parashat Korach arrives this week. In an opening gambit, Korach questions why his cousins, Aaron, Miriam, and Moses, have elevated themselves above the rest of the Israelite community, warning, "You have gone too far!" (Num. 16:3)
While his challenge to divine authority may strike us as similar to that of rabble-rousing suffragists to patriarchal dominion, the women who made up the movement to ratify the Nineteenth Amendment projected a refined sensibility that belied their rebellious acts.
For Korach, it does not end well. According to the medieval commentator Rashi, this is the fourth instance of rebellion in the wilderness – following the golden calf incident, complaints about food, and the spies' negative reportage – and God has had enough. The Divine splits open the earth, and Korach and his followers are swallowed whole into the abyss, leaving behind a giant gap in the Israelite population. A reason, some say, that Korach means "baldness."
Rabbis argue that this is the most dangerous incident to occur during the wilderness trek, even more damning than the attack of the Amalekites, who snuck up from behind to attack the Israelites' most vulnerable (Ex. 17:8-16). Korach's uprising had to be crushed, they say, to maintain God's omnipotent rule. Consequently, the name Korach is synonymous with rebellion in Jewish tradition, and the punishment meted out to him is considered justly deserved.
The image of hotheaded Korach is at odds with American suffragists, themselves rebels, who are, however, popularly portrayed as genteel women in white. Even as they sought to disrupt the status quo by advocating and agitating for participation in elections, most presented as fashionable women of the middle class.
Think Mrs. Banks in Mary Poppins: She wore dresses with hemlines that rose above the ankle (which, coupled with the gradual jettisoning of corsets, allowed for less restrictive physical movement), boots on her feet (to cover exposed ankles, as modesty dictated) and floppy, Edwardian hats of the era (then regarded as the height of fashion, no pun intended). Susan B. Anthony, for example, was known for conforming to contemporary fashion trends and believed that a woman did not have to dress "like a man" to achieve the same rights; Elizabeth Cady Stanton, however, felt fashion kept a woman from achieving her potential and was merely one more element in a larger social structure that kept females subordinate to males.
However they chose to dress, all suffragists agreed on the color of clothing at public events: They wore white from head to toe. The color served as a visual re-appropriation of so-called markers of femininity such as purity, piety, and virtue. What's more, with white as their calling card, the suffragists dazzled in the streets during protests and parades and stood out in the black-and-white photographs that appeared in the press. (Recall the memorable image of women in white in the House Chamber during the 2019 State of the Union.)
The suffragists' armor was a defense against criticism of appearing too intimidating or "masculine," even as they challenged longstanding patriarchy with gutsy actions. Rather than confining their mission to the parlors and meeting halls of their more conservative sisters, suffragists created large-scale, public spectacles – what Penn State professor Jamie Schultz calls "physical activism." The suffragists' "articulation of physical activity and political activism struck simultaneous blows to the myths of women's physical and political inferiority," Schultz says.
It was, in fact, suffragists who, in 1913, staged the nation's first march on Washington to call attention to a political cause. Along with 20 parade floats, nine bands, and four mounted brigades, more than 5,000 women, including many Jews, marched up Pennsylvania Avenue. The event, which was strategically held a day before President-elect Woodrow Wilson's inauguration, was widely reported in the press and led to congressional hearings on the vote for women.
One year later, Marguerite Rosett Bishow (1900-1992), a Jewish 13-year old from Baltimore, came of age as a suffragist by participating in a burgeoning form of physical activism known as a "Suffrage Hike."
The first such hike occurred on December 16, 1912, when 200 women departed New York City for a 170-mile trek to Albany in bitterly cold weather (in ankle-length skirts!) to draw attention to their cause. Marguerite quite literally followed in the footsteps of her mother, Sophie, who led a similar pilgrimage from Baltimore to Annapolis in order to present a suffrage petition to the Maryland state legislature.
Marguerite had witnessed her mother bolting to independence four years earlier when her parents divorced. Left by her husband, Adolph, a well-known physician, Sophie established a hat shop to feed her six children. Marguerite, the youngest at just 10, watched how her two oldest sisters, Anetta and Paulina, worked alongside her industrious mother as milliners.
As she matured, Marguerite's involvement with the suffrage movement deepened. By the time she was 17, she was joining others at the White House to picket against Wilson's continued opposition to the Nineteenth Amendment. Like the march in 1913, suffragists, too, originated this form of "physical activism."
Two years later, Marguerite's rebellion was on full display when she was thrown in jail, along with three other women, for her outburst during the trial of Sarah Tarleton Colvin, the leader of what was known as a "watchfire." On January 1, 1919, suffragists had launched yet another protest tactic, whereby they perpetually burned Wilson's speeches in an urn propped up in front of the White House.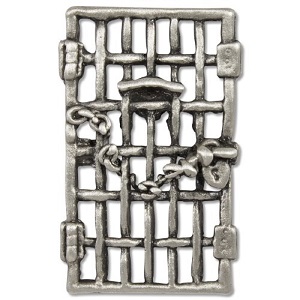 Marguerite's first jail term lasted 48 hours. A month later, she served five days for participating in what would be the final watchfire. When she turned 20, she played the role of blindfolded Justice in the suffragists' living tableau, a demonstration staged at the Maryland House of Representative to urge legislators to ratify the Nineteenth Amendment. (Maryland would reject the amendment on February 24, 1920 and not ratify it until 1941.)
In a ceremony that took place in February 1921, the National Women's Party awarded Marguerite and her mother jail door pins for their chutzpah.
You can bet that they affixed the silver pins in the shape of a prison door with a heart-shaped lock to their white dresses.
---
Rabbi Carole B. Balin, Ph.D. is the first woman to earn tenure at her alma mater, Hebrew Union College-Jewish Institute of Religion's New York Rabbinical School, where she is professor emerita of history. She serves as chair of the Jewish Women's Archive board and publishes widely on gender and the Jewish experience, including Sisterhood: A Centennial History of Women of Reform Judaism. She is currently writing a narrative non-fiction work on bat mitzvah, which will appear in 2022. To share your bat mitzvah story, visit her website.
"For the Sake of Women Less Fortunate than Ourselves"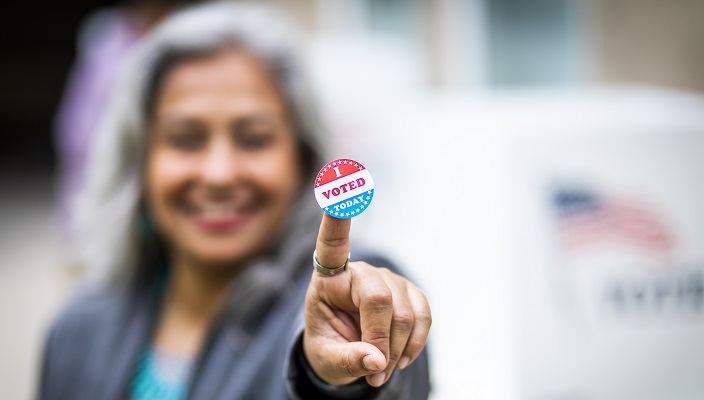 "All the community are holy, all of them!" (Numbers 16:3).
What's so offensive about that? Korach approaches Moses and Aaron and shares his position that... well, actually, I'm not sure what position he was sharing. He did seem upset, though.
Dr. Balin is certainly correct when she writes, "For Korach, it does not end well." Rabbinic tradition sees Korach and his band as scum who deserved every bit of the dramatic and painful execution they received.
Now, I've been wrong many times before, and I'll likely be wrong many times to come, but the evidence against Korach sure seems scant. What did he and his supporters do? They showed up at a town meeting and let their leadership know of their profound dissatisfaction in the way things were being run. In America, don't we call that freedom of expression? Actually, I think we call it democracy.
I love that our annual reading of Korach coincides with this year's centennial anniversary of passage of the Nineteenth Amendment. My understanding of the suffrage movement in the United States is of dedicated women who fought tirelessly to bring their country into a new, much-needed chapter in human rights.
In the early 20th century, millions of women belonged to the National American Woman Suffrage Association, supporting the work to obtain voting rights for half the American populace. What floors me is that the 100th anniversary of the Nineteenth Amendment comes amid the coronavirus pandemic, while the original congressional vote approving the amendment happened in the immediate aftermath of the flu pandemic of 1918.
The struggle to obtain voting rights for women had to contend first with World War I and then with the pandemic. Among the effects were the necessity that women go to work and, then, that large numbers that were sidelined by the flu. Just as today, we see two presidential candidates trying to rally support without being able to host large gatherings, so too was the women's suffrage movement nearly stopped in its tracks by its inability to stage mass protests.
But only nearly.
The after-effects of the war and the pandemic finally convinced a sufficient number of Americans (that is to say, a sufficient number of men) that women could no longer be seen merely as companions to men but as strong, capable individuals in their own right. On August 18, 1920, this astonishing passage was enshrined in our Constitution: "The right of citizens of the United States to vote shall not be denied or abridged by the United States or by any State on account of sex."
Dr. Balin writes, "The image of hotheaded Korach is at odds with American suffragists, themselves rebels, who are, however, popularly portrayed as genteel women in white." For me, Korach does seem rather hotheaded – but beyond that, I just don't know. Was he acting out of a true sense of justice and fairness for his people, or was he just angry he'd been left out of the leadership he'd so desperately wanted into?
The advancement of any important cause does not come without seemingly impossible obstacles to surmount. Whether it's war, disease, or meddlesome troublemakers who don't share a common passion for the community's well-being, good people are always going to have to work overtime in order to bring increased justice and equity into everyone's lives.
On this 100th anniversary of women securing their right to vote and paving the way for ever more fairness in American life, I revel in the magnificence of a nation that, despite our flaws and frequent pettiness, can get better when enough good people care to do the hard work to get things done.
Postscript: The title of this essay is taken from the 1913 speech given by Emmeline Pankhurst, who argued that voting rights for women were needed in order to advocate for women who worked but earned too little to support their family, to advocate for laws to protect women, and to make it possible for women to extricate themselves from an abusive marriage.
Rabbi Billy Dreskin is a rabbi at Woodlands Community Temple near White Plains, N.Y. Email him at RabbiBillyDreskin@gmail.com. He writes about different stuff at billydreskin.net; he writes about Jonah Maccabee Dreskin at jonahmac.org/jonah.