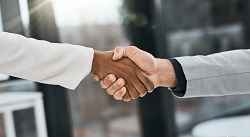 There is a section of Parashat Va-eira that might sound familiar to those who have experienced a Passover seder:
Say, therefore, to the Israelite people: I am the Eternal. I will free you from the labors of the Egyptians and deliver you from their bondage. I will redeem you with an outstretched arm and through extraordinary chastisements. And I will take you to be My people, and I will be your God. And you shall know that I, the Eternal, am your God who freed you from the labors of the Egyptians. I will bring you into the land which I swore to give to Abraham, Isaac, and Jacob, and I will give it to you for a possession, I the Eternal. (Ex. 6:6-8)
At the seder, we do not read these three verses together, all at one time. Instead, each of the first four promises is mentioned with one of the four cups of wine we raise, bless, and drink throughout the meal. With cup number one, we have v'hotzeiti — I will free you; with cup number two, v'hitzalti — I will deliver you; with cup number three, v'ga-alti — I will redeem you; and with cup number four, v'lakachti — I will take you. The Passover seder commemorates each of these completed stages of our redemption as we literally drink a toast to each one.
As for the fifth assertion, to bring us into the Land that was promised to our ancestors, here the Sages disagreed. Some say yes, this promise has been fulfilled: The Israelites' 40 years of wandering in the wilderness came to an end. They settled in the Promised Land, and so we should drink a fifth cup. Yet other Sages said no, this promise has not yet been fulfilled: While the ancient Israelites once flourished in the Promised Land, devastating exile followed. Thus, they say, we should not drink a fifth cup. What to do? Their solution: We do have a fifth cup, but we don't drink it. We set the fifth cup aside for Elijah, for we are taught that when he comes, heralding the arrival of the Messiah (or the Messianic Age), all questions will be answered. It's hard to believe this would be the most pressing question, but there you have it.
At the same time, Sages from the Talmud to Rashi agree about these verses and others in Torah that our sacred text is not redundant. Therefore, each of these five promises must be different; a unique stage of our redemption, a piece of the whole. Liberation, we learn, is a process. It only begins with the granting of freedom or emancipation. But "it is not enough to remove the burden of slavery; they [those who have been enslaved] must also have the proper circumstances that will permit them to flourish as God's people" (Etz Hayim Torah and Commentary [Philadelphia: JPS, 2001], p. 352).
The Open Door: A Passover Haggadah identifies the first stage as simple awareness: "When we are numb to the pain of bondage, we do not know that we are enslaved. When we acknowledge and address that pain, we become God's partners in liberation." (Sue Levi Elwell, ed. [NY: CCAR Press, 2002], p. 16). The fourth stage is covenant — an eternal, essential commitment on behalf of all parties that liberation will be full, inclusive, and lasting. This too has yet to be fulfilled.
In North America today, the United States still struggles with the vestiges of slavery, and it is worth asking where it is in the process of liberation. The country's Emancipation Proclamation took effect on January 1, 1863, freeing enslaved individuals from a certain kind of grueling, driven labor. Yet that was only "stage one." It would be decades upon decades before additional "promises" would materialize, in the form of legislation to safeguard the right of African Americans to vote, integrate public schools, and protect against discrimination in employment. However, far from propelling liberation forward, each of those promises has proven susceptible to, at least partial, revocation. Abiding, systemic racial disparities in virtually every aspect of American society — from education to criminal justice to home ownership to health care — suggest we are far from the covenantal commitments that would accompany a higher level of liberation.
In January of 1963, exactly one century after the proclamation, Rabbi Abraham Joshua Heschel addressed the attendees at a Chicago Conference on Religion and Race:
At the first conference on religion and race, the main participants were Pharaoh and Moses. Moses' words were: "Thus says the Lord, the God of Israel, let My people go that they may that they may celebrate a feast to Me." ... The outcome of that summit meeting has not come to an end. Pharaoh is not ready to capitulate. The exodus began, but is far from having been completed. In fact, it was easier for the children of Israel to cross the Red Sea than for a Negro to cross certain university campuses. (Heschel, "Religion and Race," January 14, 1963)
We are not commanded merely to remember and celebrate the Exodus, and we cannot wait for Elijah. It is our responsibility to help advance liberation toward completion.
Rabbi Stephanie M. Alexander is the senior rabbi at Kahal Kadosh Beth Elohim in Charleston, SC. She is a past-president and founding member of the Charleston Area Justice Ministry, a faith-based social justice organization of 29 diverse congregations.