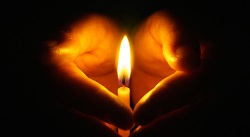 Growing up, I spent my summers at URJ OSRUI, the Reform Jewish summer camp in Oconomowoc, WI. Of all the incredible things that I learned — Hebrew, playing the guitar, Jewish history, prayer, and more — the specific piece that I needed to understand this week's Torah portion came from watching my counselors light campfires for roasting smores.
This first portion in the Book of Leviticus, Parashat Vayikra, is filled with technical details of Temple sacrifice. "Speak to the Israelite people, and say to them: When any of you presents an offering of cattle to the Eternal…" (Lev 1:2). Hidden right near the beginning of the quite lengthy sacrificial instructions for which Leviticus is well-known is this curious verse:
"The sons of Aaron the priest shall put fire on the altar and lay out wood upon the fire." (Lev 1:7)
While these days I may not be known among my friends and colleagues as a great outdoorsman, I do remember seeing those campfires at OSRUI well enough to wonder if the Torah might have gotten things a bit backwards here.
How does one put fire on the altar before the wood? Don't you need to get things set for the fire to catch? Certainly, one might add extra wood to an already burning fire, but is that the situation here? And if that were the case, then how or why would Aaron's sons add more fire to it?
Rashi, the 11th-century French commentator and ever-faithful transmitter of Rabbinic lore, points us toward a captivating adage from the Talmud:
"Although the fire descended from heaven, it is nevertheless a mitzvah (commandment) to bring [some fire] by a person." (Babylonian Talmud, Yoma 21b)
Midrash teaches that the fire on the altar was not like other fires in the world. A Divine gift from God, it possessed many unique properties, but for now, we'll focus on just two. First, this fire made no smoke of its own and from the days of Moses all the way until the reign of the evil King Manasseh (see II Kings 21) it never went out. This miraculous smokeless and unextinguishable fire is what Aaron's sons found when they came to the altar to offer their sacrifices. According to the midrash, when they added in their bit of human-made flame, the miraculous fire was changed and began emitting smoke, allowing the people assembled around the Temple to see that the burnt offerings were ascending out of the altar.
The sacrifices of Leviticus are defined in our tradition not only as worship, but also, more centrally, as avodah, "service." Complicated, often bloody, and requiring many steps, they were our people's first efforts at creating meaningful connection between humanity and God. Not everyone, after all, can be a prophet and only Moses got to talk to God face-to-face. Sacrifice, as service, gives everyone something to do. As moderns we have fully embraced the transition from Temple service to "the service of the heart" (Ta'anit 2a) and just as our ancestors contended with the curious procedure of adding fire to the already burning altar, so must we.
Prayer can be so hard. Reading the words of the siddur may be easy, but turning those words into actual prayer can seem like an insurmountable effort. All too often, when we try to light "the candle of the Eternal, the human soul" (Proverbs 20:27) within us, it feels like we are trying to light a match outside on a windy day. It can be defeating and upsetting. But imagine if, just like the sons of Aaron facing the altar those thousands of years ago, we didn't have to work quite so hard.
What if we envisioned that the altars on which we offer our prayers — whether in our synagogues, homes, offices, or cars —  were already burning? We wouldn't need to worry about getting the flames going from scratch. We would only need to find our own tiny bit of flame we could throw in to the already-blazing fire. Following the midrash, that tiny piece of fire from us would change the Divine fire's very nature. Without the vital human element added to it, God's fire burns without smoke — without a way for us to see it and its effects.
Prayer doesn't have to be so hard. We don't each need to build our own self-contained and self-sustaining campfire on which we can offer up the service of our hearts. We can, like Aaron's sons, join the unextinguishable flame that has burned since the days of Moses. No matter where we find ourselves in our service to God, we are not working alone.
As we begin a new book of Torah in this year's cycle, take stock of your internal flame — the gifts of inspiration, spirit, and love that are uniquely your own — and bring that flame to God. Your light is needed. God's bonfire is only truly aglow when you add your flame.
Cantor David Berger serves as the cantor of KAM Isaiah Israel Congregation in Chicago, IL. Currently pursuing his Ph.D. at the Chicago Theological Seminary, he is honored to be the inaugural Scholar in Residence for the American Conference of Cantors.