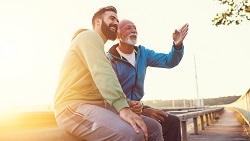 This week's Torah portion, Parashat Yitro, is remarkable. Only six Torah portions (out of a total of 54) are named for one of the individuals advancing the drama within its text. So for any Torah portion to carry the name of a person is quite unique. Yet this week's portion isn't just any portion. This is the portion in which Israel stands at the foot of Mt. Sinai and Moses receives none other than the Ten Commandments. This is the Torah portion to which every other portion in the Book of Exodus, and arguably, all of the covenanting stories of Genesis, have led thus far. This is the portion that contains the pinnacle experience of Revelation. And this portion, of all portions, is named for Moses' father-in-law, Jethro (Yitro) — a non-Israelite, Midianite priest.
What does Jethro do that is so noteworthy for which he merits such an honor not only within biblical tradition, but also in the later tradition that assigned names to the Torah portions? According to the Midrash, Jethro had been looking out for Moses ever since he was a baby in Pharaoh's palace:
"And she brought him unto Pharaoh's daughter," etc. (Exod. 2:10). Pharaoh's daughter used to kiss and hug Moses, loved him as if he were her own son, and would not allow him out of the palace. Because he was so handsome, everyone was eager to see him, and whoever saw him could not turn his eyes away from him. Pharaoh also used to kiss and hug him, and Moses used to grab Pharaoh's crown and put it on his own head. The magicians of Egypt sitting there said, "We fear this one who grabs your crown and puts it on his head may be the one, as we have been saying, who will take your kingdom away from you." Some of the magicians suggested that he be slain, others that he be burned alive. But Jethro, who sat among them, said, "This child has yet no understanding." (Sh'mot Rabbah 1:26) The Book of Legends: Legends from the Talmud and Midrash, Hayim Nahum Bialik and Yehoshua Hana Ravnitzky (eds.), translated by William G. Braude, p. 60.
Jethro, according to the midrash, then devised a test that — while leading to the lifelong speech impediment for Moses — more importantly, successfully saved his future son-in-law's life.
In this week's Torah portion, Jethro once again rescues Moses from hardship. When Jethro hears of all the Israelites have been through in their escape from Egypt, all the wonders and marvels God has done for them, he sets out to meet Moses in the wilderness. There he finds his son-in-law overwhelmed by all of the responsibility and burden he shoulders. "Moses sat as magistrate among the people, while the people stood about Moses from morning until evening" (Ex. 18:13). So Jethro gives his son-in-law some advice: Develop leaders who can help you; cultivate others who can share some of your burden. You cannot do all that needs to be done alone.
It is good, sound advice — in fact, the training program for associate and assistant camp directors through the Foundation for Jewish Camp is called the "Yitro [Jethro] Leadership Program" to this day. And to Moses' credit, he takes it. Rabbi Pinchas Peli teaches:
The greatness of Moses is also seen in the fact that unlike many leaders who invite expert consultants to advise them and then file away their reports, Moses immediately implemented Jethro's plan. ... The Torah tells us that Moses welcomed the suggestions made by his father-in-law. He was not afraid to admit that even he, the celebrated leader and teacher, could learn a thing or two. (Pinchas H. Peli, Torah Today: A Renewed Encounter with Scripture [Austin: University of Texas Press, 2005], p.73)
Jewish tradition may put Moses up on a pedestal, as Deuteronomy tells us, "Never again did there arise in Israel a prophet like Moses," (Deut. 34:10). But Moses had enough humility not to step onto the pedestal himself. He remained open and willing to learn from everyone — from the Blessed Holy One to a Midianite priest.
Later in Parashat Yitro, the Ten Commandments are revealed to Moses and the Israelites. Midrash teaches that Torah was given in the wilderness, as opposed to the future Promised Land, in order to teach that this sacred tradition belongs to anyone willing to heed its teaching and take its instruction to heart. Yet perhaps the anonymity of the wilderness also served to teach that Torah can be found anywhere — indeed it can be found everywhere and with everyone. If we're open to hearing it, every person has their Torah to teach.
Whether by the hand of Moses or the mouth of Jethro; whether in our own home communities, or among people and places half a world away; whether we are actively seeking guidance or wise counsel finds its way to us unsolicited — may we, like Moses, be open and attentive to the many sources of learning and inspiration all around us.
Rabbi Stephanie M. Alexander is the senior rabbi at Kahal Kadosh Beth Elohim in Charleston, SC. She is a past-president and founding member of the Charleston Area Justice Ministry, a faith-based social justice organization of 29 diverse congregations.