Image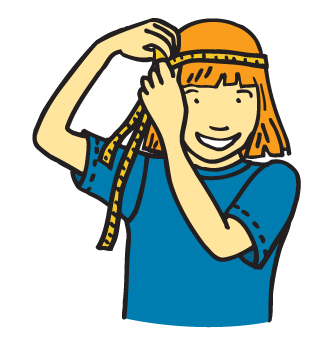 Materials for the crown or tiara:
Measuring tape or string
Poster board or construction paper
Stickers, glitter, candy, feathers, or sequins
Glue
Crown or tiara:
Measure around your head with a tape measure or a piece of string. Add 1" extra to the measurement to allow for an overlap.
Use the measurement to cut a crown or tiara shape from posterboard or construction paper.
Decorate your crown or tiara with colored paper, stickers, glitter, candies, feathers, or shiny sequins.
Now you can glue the ends together.
Materials for the very, very silly hat:
Bright colored foam sheets (from a craft store)
Stapler OR brass paper fasteners (with the 2 pointy prongs that are insterted/punched through a hole and then spread open on the other side-from an office supply store)
Scissors
Advanced very, very silly hat:
Cut a strip lengthwise from a foam sheet 1-2 inches wide.
Wrap it around your head and staple the ends together, cutting off any excess. If the strip isn't long enough, staple two strips together.
Cut the remaining foam sheet plus as much more as you like into 1 inch strips.
Use the stapler or gold fasteners (to create a "jewel" look) to attach the strips to the headband. Be creative!
Attach them in every direction.
Attach them to each other.
Make shapes, go nuts!
Shira Kline, aka ShirLaLa, is an award winning New York based performer and music educator. She travels across the country and internationally with her kiddie-rock band, delivering a dynamic, interactive program of joy and spirit, story and song.