Image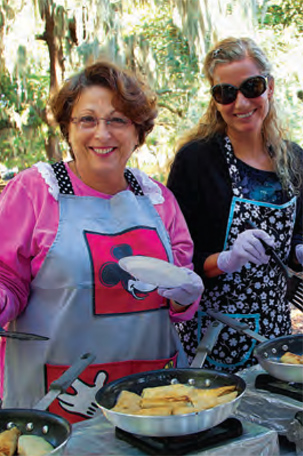 Every October for the past 24 years, Forsyth Park in Savannah is filled with the aroma of corned beef instead of wisteria, lines for "Sizzlin' Sephardic Lamb" instead of carriage rides. This is "Shalom Y'all," one of the largest Jewish food festivals in America and one of Savannah's biggest events. In this most Southern of cities, fried chicken is temporarily overshadowed by brisket. Even Ms. Wilkes Kitchen, where every table is served the same 20 items and President Barack Obama clears his own plate, is outdone by the myriad of Jewish delicacies. Shalom Y'all turns the grandest of Savannah's tree-lined squares into the South's best delicatessen. "It's my second favorite event in October after Alabama football," says Savannah native Mollie Craven. "I come every year, can't miss it even though I'm not Jewish."
Preparations for the one-day event start months ahead. On a hot August day, Sue Ruby and other exhausted volunteers sat behind towering mountains of 200 freshly baked, braided loaves of challah in Temple Mickve Israel's ample kitchen and wondered if they'd made enough. More than 10,000 people attend the festival, and challah is a crowd favorite. "Taste this!" Sue said, breaking off a still-warm hunk of a loaf they'd rejected because of sloppy braiding. It was, I assured them, an absolute taste of heaven.
These dozen bakers are among the 200+ volunteers—about 85% of them Mickve Israel congregants—who do all the cooking and schlepping. The "mahjong mavens," among others, oversee 12 sizzling frying pans that produce 1,700 blintzes, deftly slice 140 strudels and 80 noodle kugels, and heat up gargantuan vats of chicken matzo ball soup. They're also the festival's food mavens, explaining, for example, at the egg cream booth: "No, actually it has no egg and no cream."
The festival abounds in creatively reinvented Jewish food and drink, everything from Chicken Shalom'ein (a noodle and chicken stir-fry) to He'brew beer. Lines are long, especially for corned beef and potato latkes—which event chair Lauri Taylor insists taste better when cooked outdoors.
Other festival favorites are Jewish jazz, cantorial music from all over the country and Israel, folk dancers, ensembles from the Savannah Philharmonic, and sales of Judaica: books, t-shirts, and a popular "Baubles Boutique." There's even face painting for the kids. Among the 30 booths is "Advice from Bubbe," aka Melinda Stein, who entreats festival-goers with the hand-painted sign "She'll make you smile, she'll make you qvell, if you ask her advice and buy what we sell."
Shalom Y'all is Temple Mickve Israel's biggest yearly fundraiser, earning 75% of the synagogue's budget for social action programming. "Yes," Taylor says, "We do it to make money, but our real goal is to create good will."
When President George Washington wrote to Mikve Israel leaders in 1788, he said, "May the same wonder-working Deity who long since delivered the Hebrews from their Egyptian oppressors…still continue to water them with the dews of Heaven and make the inhabitants of every denomination partake in the temporal and spiritual blessings of that people," he probably wasn't referring to partaking in the blessings of corned beef on rye, but nowadays that's how they do it in Savannah.  
Carol Antman is a freelance writer whose work has appeared in Charleston Magazine, S.C. Wildlife Magazine, and on her blog peaksandpotholes.blogspot.com. The 25th annual "Shalom Y'all" will be held October 27, 2013. For more information: mickveisrael.org.