You are here
Mifgash (Encounter)
Spend Time with Israelis While in Israel
Chat with interesting Israelis during your touring. ARZA's Mifgash Project is designed to help you meet and come to know both the leaders of the Israeli Movement and the people involved in making this movement grow. The ARZA Mifgash program, will help you to know these exciting bonim, builders.
(Waiting for content from ARZA)
Learn about  the Shabbat customs, traditions, and practices observed in synagogues and Jewish communities throughout the world.
Inspiration for all your gift-giving needs - with an emphasis on tikkun olam, the repair of the world.
Rabbi James Rudin reviews Simon Levis Sullam's well-researched book that shatters the widely-held belief that Italians protected their Jewish fellow citizens from the horrors of the Holocaust.
Autumn isn't only the best season because it's full of Jewish holidays; it's also the season of delicious pumpkin-flavored foods.
Alden Solovy offers this prayer that is especially relevant during hurricane season.
Whether you're a member or a visitor, familiarity with synagogue etiquette will help you get the most from your experience.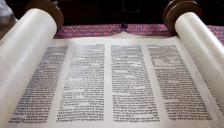 The Eternal appeared to him by the oaks of Mamre as he was sitting at the entrance of the tent at about the hottest time of the day. - Genesis 18:1
Want to explore Reform Judaism but have no in-person opportunities to study? This class is for you! Register now.
There's a deep relationship between Judaism and social action.
Learn why Anat Hoffman fights for women's rights in Israeli society.
Mattan loves his homeland while disagreeing with its government.
Search URJ.org and the other Reform websites:
WRJ Shop MRC
The artwork on this note card was created by 5768 WRJ Art Calendar artist Césan d'Ornellas Levine.
$7.50/pack
Show your WRJ pride with this zippered canvas bag. Features the phrase "Well-behaved women rarely make history" and the WRJ logo.
$18 $15