Image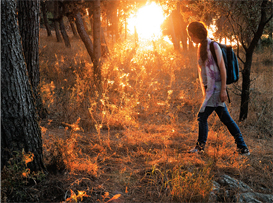 Israel is now a world leader in green innovation, conservation, and environmental sustainability-and many of the initiatives are open to all of us to see and experience.
Ariel Sharon Park and Mount Hiriya
Within the 2,000-acre Ariel Sharon Park in the heart of Greater Tel Aviv (Gush Dan) stands Mount Hiriya, a former environmental hazard turned into a national asset-indeed, one of the most successful reclamation projects in the world. For almost 50 years, Hiriya functioned as a landfill. Then, in 1999, when it had grown just under 200 feet tall, Israel's Ministry of Environmental Protection decided to clean it up. In only two years it was transformed into a recycling park and environmental educational center which runs tours, movies, lectures, and seminars to educate the public about recycling.
Nowadays you can stroll through the park, go bird-watching, hike on a 50-acre scenic foot path or follow the bicycle trail, and enjoy the vista from the park's crowning glory-a metropolitan observation deck called the Belvedere. You can also take five different group tours: an introduction to the rehabilitation of Mount Hiriya, bird watching, a bicycle tour of the park trails, "Who Lives under the Stone?" (the world of reptiles), and "Environmental Innovation: Then and Now" (including a tour of Israel's first agricultural school). In upcoming years the park will be beautified by an amphitheater, a boardwalk, cafés, an archeological area, heritage sites, and an observation bridge constructed from recycled shipping containers that will link it with the main thoroughfare leading to Tel Aviv.
Vertigo Eco-Art Village
About an hour's drive south of Ariel Sharon Park in the Valley of Elah, you'll discover the creative handiwork of the four Wertheim sisters-Noa, Tali, Rina and Merav. Over the last five years, starting out with nothing but an abandoned chicken coop, they've built Vertigo Eco-Art Village, a center for education, art, and dance on Kibbutz Netiv Ha Lamed Hei-thereby realizing their dream of living together in an environmentally-sustainable way while expressing their passions for the arts.
Vertigo is open to visitors and groups year-round. Group activities include movement workshops for both dancers and non-dancers as well as hands-on learning (such as how to make art from mud and building with adobe mud bricks). The sisters also offer tours of their socially responsible practices, such as how they recycle grey water to fertilize and irrigate their organic gardens. And Vertigo's resident chef will prepare vegetarian kosher meals if ordered in advance.
About an hour south of Vertigo is Neve Midbar, a desert resort and thermal spa complex built around natural hot springs. Regional Mayor Shmuel Rifman conceived the idea of building a resort here in 1997, after learning that area farmers, exhausted after a hard day's work, would spend their evenings relaxing in the natural, hot, mineral-rich pools.
Today, this desert oasis, amidst palm trees, pergolas for shade, chairs, and lounge beds, offers visitors three thermo-mineral laden pools, an indoor Jacuzzi, and a baby pool (all pool waters being recycled to irrigate Neve Midbar's gardens). Popular spa treatments include hot stone massage, shiatsu, body peeling, and reflexology. Guests can dine at Neve Midbar's kosher meat restaurant or dairy cafeteria. Nearby lodging is available at Kibbutz Mashabe Sade and elsewhere.
Just four miles northwest of Neve Midbar, at Kibbutz Revivim's Chai Negev zoological park, you can observe wolves, coyotes, foxes, and other desert animals in specially constructed habitats of mud, brick, and wood. You can also pet and feed monkeys, lambs, parrots, rabbits, and other tame animals; bake your own pitas on an open fire, served with cheese, vegetables, olives, and tea; walk the grounds, adorned by 30 life-size stone statues of animals and birds crafted by local artist Amnon Barzilai; and browse a gift shop stocked with locally-produced products. Overnight accommodations include mud brick-constructed African huts, Bedouin tents with authentic decorations, and teepees.
Mitzpe Revivim
Less than half a mile away, on Kibbutz Revivim, historical tours are given of a lookout point established in 1943 to defend the Negev. You can explore caves once serving as the command bunker and field hospital, walk through the restored fort and climb its tower, search trenches for hidden weapons, learn secret communication methods, and view WWII-era planes that transported military supplies to the area during the Arab siege of the kibbutz.
And if you're like me, you'll marvel at the tree art garden created by local kibbutz artist Aron Nave, who molds tree trunks into "impossible" shapes such as a Magen David and a pair of eyeglasses.
Nitzana Educational Community and Solar Park
After a 30-minute drive southwest, join the crowd at a massive tower that shades and cools the entrance to Nitzana Educational Community and Solar Park. A guide will take you through the park and demonstrate equipment used to recycle dew, distill fog for reuse, and desalinate seawater. You'll also learn applications for different renewable energy sources-among them sun, wind, water, and gravity.
In 1986, former Knesset member and Israel Prize Laureate Aryeh "Lova" Eliav (z"l), assisted by the Jewish Agency, started Nitzana to teach Israeli and Diaspora youth that the Negev Desert is a "living desert" which can sustain human habitation if done so in harmony with nature. Nowadays, every year, some 15,000 young people attend seminars at Nitzana on preserving desert ecosystems, water conservation, solar energy, and more. Through tours of the Solar Park, adult visitors are learning some of these lessons as well.
A kosher lunch is available. Accommodation options include a guest apartment, a youth hostel, and a Bedouin tent.
Ezuz-Zimmerbus
In one of the remotest parts of Israel-Ezuz, a town in the foothills of Mount Negev on the Sinai border about eight miles from Nitzana-you'll also find one of Israel's most unique eco-accommodations-a bed-and-breakfast inside recycled buses. When owners Eyal and Avigail Hirshfeld first moved to Ezuz 11 years ago, they needed a place for their friends to sleep, so they fixed up an old, discarded bus. Friends loved staying overnight in the bus, and soon it became a popular weekend stop.
After strangers started asking the couple if they could sleep over too, the Hirshfelds decided to buy more buses, charge a fee, and name their enterprise "Zimmerbus" ("zimmer," German for room, has become synonymous in Israel with "guest house"). Now the Hirshfelds own three buses: a regular sized bus with one room for a couple or two singles; and two larger buses, each with two bedrooms, for families-one of them an extra-wide former airport shuttle bus. Refurbished to high standards, the buses are comfortable for sleeping, relaxing, and cooking. The larger ones contain a fully-equipped kitchen, dining area, lounge, and bathroom with Jacuzzi bath; the regular-sized bus has a shower and a sheltered outside kitchenette. Guests have the option of breakfast, which includes Avigail's delicious homemade pita bread.
Reserve early, as the buses are very popular with tourists, not just for the unique accommodations but also for the locale, which features the largest sand dune area in Israel; magnificent spring flowers; nearby hiking, cycling, and camel trails; and Ezuz music events.
There is no community in Israel, or perhaps anywhere in the world," says Alex Cicelsky, director of Research and Development of the Lotan Center for Creative Ecology, "where Jewish and environmentalist values have had more of an impact than in our Reform Movement's Kibbutz Lotan."
For nearly two decades, the Center-ensconced in the middle of the Arava Valley desert about 35 miles north of Eilat-has been experimenting with and teaching earth mud-building construction utilizing straw bales and recycled waste. Its EcoCampus is now carbon neutral. Its solar shed, which shades Israel's first recycling station, supplies more clean energy than the buildings consume and also offsets the carbon emissions produced during Lotan's "Green Apprenticeship" certification courses and "Peace, Justice and Environment Academic College Semester" programs.
In this eco haven you can find rejuvenating experiences for mind, body and soul. Lotan will customize educational programs for visitors, such as study sessions on Judaism and creative ecology, kibbutz life, pluralism in Israel, the desert as home, natural and holistic health, spirituality and awareness, and various forms of meditation. On-site therapeutic body treatments include cranial sacral therapy, yoga, and watsu-a relaxing shiatsu massage in a heated indoor pool, set inside a large mud-brick-constructed pavilion and open all year round. You can also enjoy swimming in the kibbutz pool any time from Pesach to Sukkot; bird-watching; guided tours of the kibbutz and the region by tour guide/Lotan resident David Schoneveld; and, at the Solar Tea House, gourmet dairy fare harvested from Lotan's organic gardens. A guesthouse offers accommodations, and guests are welcomed to join the Kibbuz Lotan community for Shabbat services and a festive dinner.
Ketura Sun
About two-and-a-half miles down the road from Kibbutz Lotan is Israel's first commercial solar field.
In 2006, Kibbutz Ketura member Ed Hofland, together with American businessman David Rosenblatt and human rights activist/environmentalist Yosef Abramowitz, created a solar power company that, they envision, will someday supply Israel with 10% of its energy needs. Today, the 20-acre Ketura Sun solar field, owned and operated by Arava Power, contains 18,500+ Suntech photovoltaic solar panels which produce nine million kilowatt hours of electricity per year, powering some 4,000 homes with clean, renewable energy. At the current rate, over the next 20 years, Ketura Sun will offset some 125,000 metric tons of carbon dioxide, the equivalent of planting 180,000 trees.
Visitors are welcome by appointment. Guided tours are available through Kibbutz Ketura's Keren Kolot Educational Institute.
The Ecological Greenhouse-
Kibbutz Ein Shemer
Head north from the Arava and in about four hours you'll arrive at Kibbutz Ein Shemer's Ecological Greenhouse, an independent nonprofit study and research center predicated on the belief that ecology, science, curiosity, and teambuilding can create bonds of friendship between Jewish and Arab high school students. In an experiential school program, young people from 14 educational institutions attend lectures and research in teams for projects lasting anywhere from a month to a year.
For half a dozen years, Birthright Israel and other groups have come here to discuss how ecological cooperation can help close the divide between Israeli Arabs and Jews. You'll have that same opportunity; plus, your guide will take you on a Greenhouse tour, explaining such ongoing projects as environmentally sustainable fish farming and the study of microalgae for biodiesel production. Along the way, you'll have the opportunity to meet with Jewish and Arab Israeli student representatives and hear firsthand how the Greenhouse has impacted their lives.
Agamon Hula Lake Ornithological and Nature Park
Want to get close to flocks of cranes-60,000 migrate here in November-as well as buzzards, falcons, egrets, kingfishers, kite, and other bird species that stop to rest on their migration path between Africa, Europe, and Asia? About 75 miles north of Kibbutz Ein Shemer you'll find the Agamon Hula Lake Ornithological and Nature Park, a bird and animal sanctuary encompassing a 247-acre lake bordered by papyrus bushes and various species of indigenous flowers and trees. You can rent electric golf carts (for two, four, or six passengers) or bikes or hop on the tractor-drawn "Safari Wagon" to travel the 5.28-mile waterside path around the lake. All along the banks, you'll see coypu (nutria), large beaver-like animals feasting on aquatic plants, roots, and waterside vegetation. Alternatively, you can hire a private guide to take you on an educational tour around the lake and show you the Crane Feeding Project and "Bird Island" bird-ringing station.
Our guide explained that, until the mid-20th century, much of the Hula Valley was covered by a lake and seasonal wetlands that served as a resting and foraging station for some 500 million migratory birds. In 1951 the Israeli government decided to drain the "malaria-infested swamps" for habitation and agriculture-and 30 years later the damaging consequences of that decision became evident.
First, the land was no longer usable for agriculture. The soil lacked natural nutrients (because of soil oxidization); sinkholes were forming and underground fires spontaneously erupting, sometimes lasting for months (both due to loss of water content and wind-erosion) and causing injury to farmers.
Moreover, varieties of plants, fish, and other animals that had depended on the wetlands became extinct; migratory birds could no longer nest in the valley; and nitrogen compounds that had washed into the drainage channels were polluting the Sea of Galilee.
Finally, in 1994, the JNF initiated the Hula Valley Peat Soil Restoration Project to rehabilitate the soil and prevent further damage to the sea. Part of the project included creating a public park to foster and conserve Israel's natural landscape.
Today, indigenous fauna and flora are once again flourishing, and 500 million birds representing 400 different species stop here on their migration journeys.
Mitzpe Hayamim Hotel, Spa, and Organic Farm
A softly lit garden welcomed us to Mitzpe Hayamim Hotel, Spa, and Organic Farm, about 15 miles south of Agamon Hula past Rosh Pina on the road to Safed. In the old-fashioned lobby and tea corner, people wrapped in fluffy white bathrobes relaxed on wingback chairs and sofas drinking herbal teas crafted from fresh organic herbs. Other guests were swimming, taking saunas, enjoying massages, relaxing in the Jacuzzi, or reading in the library-a vast selection of books is available in many languages.
The hotel got its start in a moment of serendipity, Mitzpe Hayamim tour guide Adi Taubenhouse explained. In 1923, Berlin émigré Dr. Eric Yaros, a physician, homeopath and naturopath, was traveling from Safed to Rosh Pina when suddenly he asked his driver to stop the car. Jumping out, he climbed to the top of the hill and took in the vista from the Golan Heights to the Sea of Galilee. At that moment he decided to build a place of healing on the very spot. He bought the land from Baron Rothschild, but it took until 1968, when he was in his early 70s, for the first 12 rooms to open. At age 91, he sold the property to Sammy Chazan, an agricultural school graduate with a similar, but grander vision for the facility: a luxurious health and beauty hotel featuring two fine-dining restaurants that would serve organic vegetables and fruits harvested from their own gardens and orchards (now 30+ acres), cheeses and milk products from its own dairy cows (now 30 different products), and fresh breads and pastries baked on site.
Guests can take water aerobics, tai chi, yoga, and walks, and work out at the fitness center. The hotel spa offers relaxation and beauty treatments.
---
These are just a few of the unique, innovative experiences Israel offers the eco-traveler. For additional ideas, contact local tourism associations, visit the Israel Ministry of Tourism's official website, and/or engage an Israel tour company. I believe you'll be in awe, as I was, at the Israeli ingenuity behind your eco-adventure.
Darryl Egnal is a freelance feature writer, editor, and photographer. She thanks Joe Perlov and his associates at IsraelExperts for guiding her on this eco-tour of Israel.
 
When Visiting Kibbutzim or Other Agricultural Settlements

Working is another way of praying.
You plant in Israel the soul of a tree.
You plant in the desert the spirit of gardens.

Praying is another way of singing.
You plant in the tree the soul of lemons.
You plant in the gardens the spirit of roses.

Singing is another way of loving.
You plant in the lemons the spirit of your son.
You plant in the roses the soul of your daughter.

Loving is another way of living.
You plant in your daughter the spirit of Israel.
You plant in your son the soul of the desert.
-Dannie Abse
From Birkon Artzi: Blessings and Meditations for Travelers to Israel (CCAR Press, 2012)