Image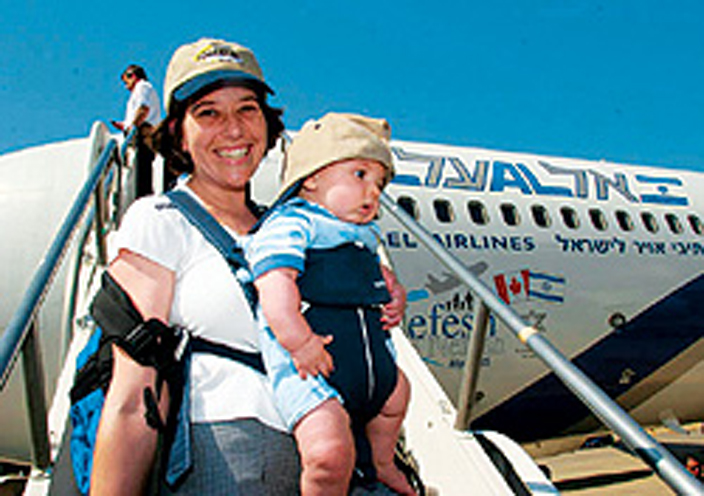 These days, Reform Jews are moving to Israel in growing numbers.
In just four years—from 2003 to 2007—the percentage of North American Reform Jews making aliyah increased by 130%.
What accounts for this increase?
One explanation is a series of Zionist initiatives taken by the Association of Reform Zionists of America (ARZA) in partnership with the Jewish Agency for Israel.
Last August, for instance, the first shlichat aliyah (aliyah emissary) to the Reform Movement, Liran Avisar Gazit, arrived in New York to advance the idea of aliyah as a practical life option for North American Reform Jews. "I am supporting Reform Jews who are interested in aliyah or in a long-term Israel experience," Gazit explains. "Olim (immigrants) are welcome in Israel; they will be embraced by official agencies as well as by Israeli Reform congregations."
At the same time, our Israeli Movement for Progressive Judaism has established a Klita (Absorption) Committee, with representatives from different Israeli kehilot (congregations) warmly welcoming Reform Jews ready to join them. "Each kehila," Gazit says, "has come up with a basket of benefits, such as free membership for the first year, educational scholarships for children, and host families who invite new olim for Shabbat and other holidays."
Young Reform olim (ranging in age from 18–35) receive support from the World Union for Progressive Judaism to help them integrate in Israel.
Modi'in Wants You
Aware of the rising trend in Reform aliyah, in July 2007 the Jewish Agency, the Ministry of Absorption, and the municipality of Modi'in joined in sponsoring a campaign to offer Reform Jews in North America incentives to settle in Modi'in, home of Reform Congregation Yozma. The extensive incentive package includes an additional rent subsidy (beyond those usually offered to olim), additional ulpan hours (beyond the five months the government provides for Hebrew language immersion), education benefits for children, entrepreneurship benefits (grant money to begin new businesses), cultural activities (such as monthly trips around Israel), and an oleh adviser who helps the immigrant from the very beginning through the challenges of aliyah, from meeting the family at the airport to accompanying them to a real-estate office to registering the children for school. In addition, Congregation Yozma provides a host family, free membership for a year, and a tuition discount for its highly regarded Progressive education program.
Last July, Modi'in Mayor Moshe Spector and Congregation Yozma Rabbi Kinneret Shiryon (who herself made aliyah twenty-six years ago) met with hundreds of people at Reform congregations in New York, Chicago, and Washington to launch this program. As a result, several American families have begun the process of making aliyah to Modi'in. "Families who had been thinking about the possibility of aliyah realized that they will be embraced by the Israeli Reform community," says Rabbi Shiryon, "as there is a built-in network of like-minded people to support them." This historic welcoming of Reform Jews to a city that takes pride in its commitment to religious pluralism was expressed by Mayor Specter, who said: "Reform Jews will be an incredible asset to my city."
More Options
Reform Jews are also finding a home within intentional Reform communities in Israel. In 2005, Debra and Oren Massey, together with their infant son, left the Bay Area for Har Halutz, where eighty Progressive Jewish families make their home together in the Western Galilee. Now expecting a second child, Debra believes that in Israel she is providing a quality of Jewish life for her children that she could not in the United States. "Now the Jewish calendar is inherent in their everyday life," she says. "Being Jewish is not about being 'the other.' The children are immersed in Judaism naturally and feel a strong connection to the land."
Josh Weinberg, 29, made aliyah four years ago. "After four months of studying in Israel through the Eisendrath International Exchange High School," he says, "I wanted to come back." His impetus: to turn his Zionist beliefs into a living reality. "Now," he says, "I teach history in the same EIE program and live a pluralistic Jewish life with friends from all different Jewish backgrounds." He hopes that as his parents look toward retirement, they will buy a home and join him in Jerusalem.
"Part-Time Aliyah"
Another aliyah trend is the new model: "Part-Time Aliyah," also known as "Second Home in Israel." It is becoming increasingly common for North American Jews to buy second homes in Israel; receive Israeli citizenship; and go back and forth, spending nine or ten months in Israel and two or three months in the States.
Rabbi Stanley Davids and his wife Resa made aliyah in 2004. The couple's primary home is now in Jerusalem, and their secondary in Southern California, where they return several times during the year to celebrate holidays with their children and seven grandchildren. "We chose retirement in Israel so that we could be present to help make Israel into a more democratic, pluralistic society," says Rabbi Davids, who serves as president of the Association of Reform Zionists of America. Mrs. Davids, a member of the national board of Women for Reform Judaism, is currently working to create an affiliate for Israeli women. And the Davids know six Reform rabbis in their neighborhood alone who have made aliyah from North America.
"There is nothing Israel needs now more than a strong, significant, authentic, Liberal voice of Reform Jews from North America, especially as Israelis begin to look in earnest for more meaningful connections to their Jewish heritage," Gazit says. "I warmly invite Reform Jews to add their incredible voices and values to the fabric of Israeli society and to take part in shaping the nation at this crucial time, making Israeli society as Prophet Isaiah said: 'a light unto the nations.'"