Image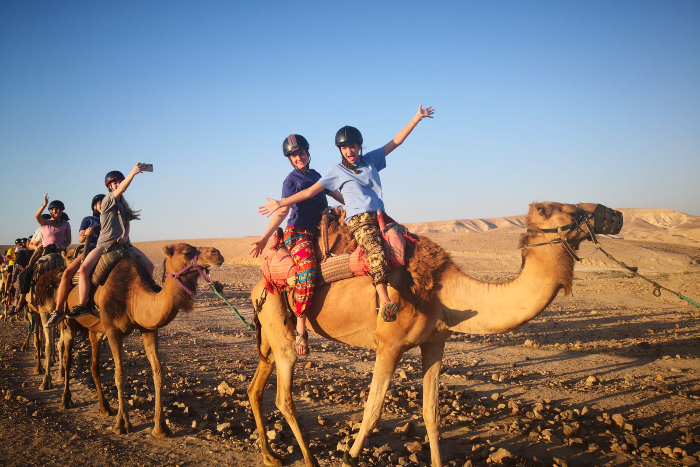 Each year, families gather around the seder table to celebrate the Jewish holiday of Passover, a major spring festival commemorating the Exodus from Egypt more than 3,000 years ago. Today, the holiday is a celebration of freedom and family.
One of the most significant moments during a Passover seder is the moving final declaration, "Next year in Jerusalem!" For many Reform Jews in North America, it is also a reminder that engagement with Israel is a key element of our faith. We declare, "Le'shanah ha'ba'a b'Yerushalayim" – Next year in Jerusalem! – a statement of hope that someday we'll experience Israel firsthand.
The seder is an opportunity to engage teens who are becoming aware of their place in the world and using their voice to shape the future. Of course, many discussions around a family holiday table can be difficult, and perhaps none more so than a discussion about Israel. The history and fond memories of older generations may clash with the more distanced, political understanding of Israel held by teenagers who know Israel only through the news and who are finding their voices in the Reform Jewish tradition of social justice.
A good place to start is to point out that Israel is a unique country, fulfilling a dream held by Jews over the centuries – but it is also a new country that is evolving. Just as in the U.S., different political parties and movements fight for laws and public standing in Israel. We North American Jews also must fight for an Israel that represents our love and our values for the Jewish homeland.
During the seder or throughout the week of Passover, consider debating and discussing these questions and concepts with your teens:
What does it mean to be Jewish in the Jewish State? How can Jewish values be expressed so that Israel fulfills the mandate of its Declaration of Independence?
[The State of Israel] will be based on freedom, justice and peace as envisaged by the prophets of Israel; it will ensure complete equality of social and political rights to all its inhabitants irrespective of religion, race or sex; it will guarantee freedom of religion, conscience, language, education and culture…
The Reform Movement in Israel, through its Israel Religious Action Center, actively fights racism, discrimination of all kinds, and supports rights for refugees and immigrants. How do these themes play into the Passover story? How can we engage as active Reform Jews in living our values and supporting an Israel in which history comes alive?
 
Is Judaism compatible with democracy? Should religion and state be separated in Israel like the Jeffersonian model in the United States? In which elements of religious life should the government have a role? What is more important – obtaining full recognition by the Israeli government for the Reform Movement or a complete separation of religion and state in which the government does not recognize any religious movements?
What would you suggest to the Reform Movement in Israel to help overcome some of its other challenges? How should our core Reform Jewish values inform policy regarding the Palestinian community, both in Israel and in the West Bank and Gaza? Or regarding issues of inclusion?
Engagement with Israel is a key component of the Reform Jewish Movement. We encourage youth and teens to learn about Israel, discuss its politics and culture, and ultimately to travel there. From trips with camp friends to specialty trips for those interested in science, sports, social justice or Hebrew immersion to a fully-accredited American high school semester abroad, Reform Jewish teens have many options to choose from when it comes to discovering Israel. 
Whatever that call to spend next year in Israel means to your family, it is an opportunity to further engage young people in developing a personal connection to Israel. Perhaps also it is a chance to help them find a way to do more than just read about it or watch videos online, but to make a journey that could be the foundation for lifetime engagement.
Next year in Jerusalem!
Learn more about Reform Jewish youth programs in Israel and North America.