Image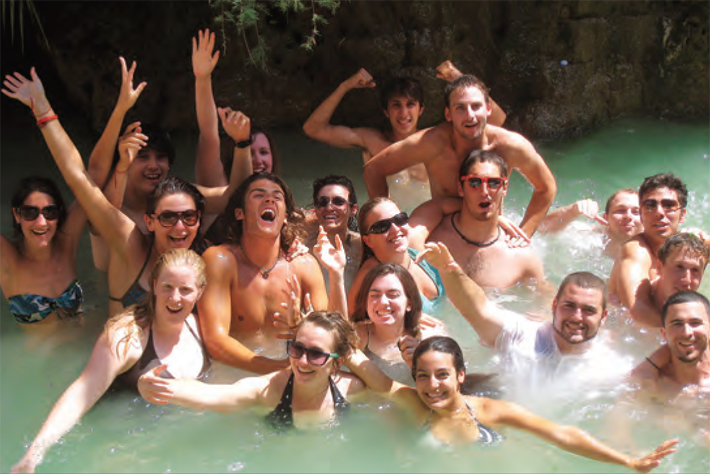 My 24-year-old sons, fraternal twins, are the youngest of my children. I tried to give them a Jewish education. Sunday school and weekly Hebrew lessons were a constant strain. Their mother said, "You can't push children to learn; they will let you know when they are ready." I said, "They are Jewish children of mine, and there is no negotiation." Needless to say, they received little-to-no Jewish education. They won; I lost. No bar mitzvah. No Jewish identity as I wished it to be.
On the other hand, their older sister by two years couldn't get enough Sunday and Hebrew school. She was a seasoned Jewish camper. Came time for her bat mitzvah, she thrived, she learned trope, she did it all. Go figure.
After they graduated from high school, I frequently suggested that my kids look into Birthright, a remarkable program that provides a free trip to Israel for Jewish youth ages 18 - 26. I saw my adult friends' kids return from Birthright enthused, enlightened, and changed. The experience was just as life-altering for my adult stepson and stepdaughter, both of whom tried to get my sons and daughter to go, too.
But all my kids said 'No, I'd rather go to Italy or Spain or Mexico.' And that's what they did.
My wife admonished me: Stop pushing Birthright so much. The more you push, the more the kids are going to push back. So, reluctantly, I dropped the subject.
A few years passed. The kids graduated from college. My daughter found work in San Francisco, and my sons in New York and Boston. All were still minimizing their Jewish identity. One son told me that whenever he was asked if he was Jewish, he'd say, 'no, but my parents are.' The other son declared, 'religion is the root of the world's ills.'
Then, a few months ago, I got a call from one of my sons. "Dad," he said, "We're on the Birthright waiting list."
How did that happen? Turns out, many of the twins' Jewish college friends had gone on Birthright, so the 24-year-olds decided Birthright might be a good idea.
Birthright found an opening for them, and off to Israel they went.
---
My son, "Mr. Religious Skeptic," calls me upon his return to New York. His brother, he explains, is still in Tel Aviv, having accepted an invitation to stay over the weekend with two soldiers. I ask him to tell me about a meaningful experience he had in Israel, and he relates that during lunch on a kibbutz, an alarm sounded, perhaps a fire or car alarm, and one of the group members, an Israeli student, abruptly stood up, momentarily terrified. At that moment, my boy realized that, as an American Jew, he doesn't live day-to-day with fear of rocket attacks, suicidal bombers, death. Israeli Jews do. He begun to experience empathy for his Israeli hosts, guides, soldier escorts, and fellow students.
---
When "Mr. …But my parents are Jewish" returns from Israel a few days later, he tells me that his defining moment was realizing he'd made false assumptions about the country. "I thought Israel would be a nation of black hats, beards, and Palestinian oppressors, but actually we rarely saw Orthodox Jews," he reported. "Almost everyone was just like us. Being Jewish doesn't mean only religion, it is a culture, so I guess I am Jewish after all and proud of it."
A few days later, the same son calls me. He and a Birthright buddy are at an Israeli restaurant in New York; he misses Israel "sooo much," he decided to have a now-familiar lunch. The cute Israeli waitress gives him the check, and on the back is her phone number. He's going to call her.
He phones her and makes a date. After the first date, they continue dating.
---
When I think back on all this, I guess there are some lessons for Dad to learn, too.
What got my kids interested in their Jewish identity was not my prodding them into it, but their friends' enthusiastic, self-motivated participation. The boys had disliked their small Sunday school and Hebrew classes, where the fellow students were not from their social circles, and even my adult daughter told me how much more fun it would have been for her had we belonged to the congregation "where all my friends went." We probably could have swung belonging to that synagogue, had we requested a modified fee, rather than choosing a smaller, less expensive temple, but that option had never occurred to us. We weren't thinking "peers first."
In retrospect, I've learned that when it comes to their Jewish educational journeys, kids' friends are often equally—or more—influential than we parents. My twin sons' Birthright experience happened mostly because of their college friends, and my daughter's interest in going to Israel is happening because of her brothers' trip. As a parent, I planted Jewish seeds, but peers brought them to fruit. And then Birthright did in 10 days what I couldn't do in 10 years.
Hallelujah!
Ned Porges is a professor emeritus at Highline College, a retired real estate broker, and a member of Temple Beth Am in Seattle, Washington.
---
Birthright - The Reform Experience
Taglit-Birthright Israel offers Jews ages 18–26 a free 10-day Israel -experience—a once-in-a-lifetime opportunity  to explore Israel while forming new friendships with North American and Israeli peers. The URJ Kesher trip, the only one affiliated with the Reform Movement, embodies Reform's values of inclusiveness, open-minded thinking, and bold ideas. Learn more.