This prayer can be said in honor of someone called up to the Torah.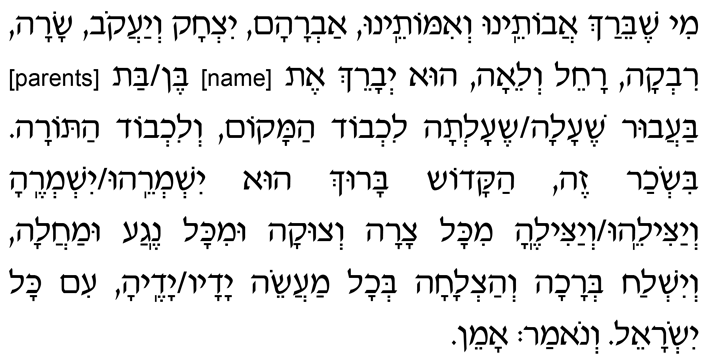 Mi Shebeirach avoteinu v'imoteinu,
Avraham Yitzchak v'Yaakov,
Sarah, Rivkah, Rachel v'Lei-ah,
hu y'vareich et [name] ben/bat [parents]
baavur she-alah/she-altah
lich'vod HaMakom, lich'vod haTorah.
Bis'char zeh HaKadosh Baruch Hu
yishm'reihu/yishm'rehah
v'yatzileihu/v'yatzilehah
mikol tzarah v'tzukah umikol nega umachalah,
v'yishlach b'rachah v'hatzlachah
v'chol maaseh yadav/yadeha,
im kol Yisrael. V'nomar: Amen.
May the one who blessed our ancestors, Abraham, Isaac and Jacob, Sarah, Rebecca, Rachel and Leah, bless [name] son/daughter of [parents], since he/she has come up to the Torah in honor of God and Torah. May he/she merit from the Holy One of Blessing protection, rescue from any trouble or distress, and from any illness, minor or serious; may God send blessing and success in his/her every endeavor, together with all Israel, and let us say, Amen.