Common Prayers for Shabbat Evening
From the evening service, "Torah is God's gift to us."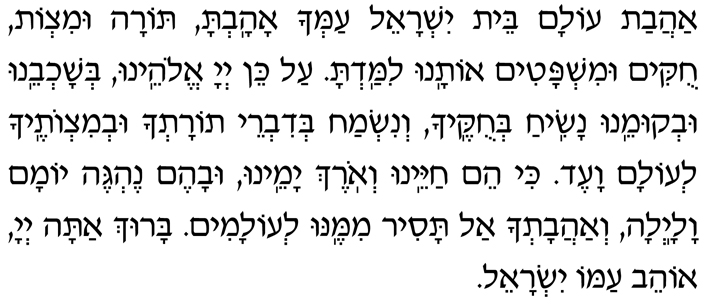 Ahavat olam
beit Yisrael amcha ahavta,
Torah umitzvot,
chukim umishpatim, otanu limad'ta.
Al kein, Adonai Eloheinu,
b'shochbeinu uv'kumeinu
nasiach b'chukecha,
v'nismach b'divrei Torat'cha
uv'mitzvotecha l'olam va-ed.
Ki heim chayeinu v'orech yameinu
uvahem neh'geh yomam valailah.
V'ahavat'cha
al tasir mimenu l'olamim.
Baruch atah, Adonai,
ohev amo Yisrael.
Everlasting love You offered Your people Israel
by teaching us Torah and mitzvot, laws and precepts.
Therefore, Adonai our God,
when we lie down and when we rise up,
we will meditate on Your laws and Your commandments.
We will rejoice in Your Torah for ever.
Day and night we will reflect on them
for they are our life and doing them lengthens our days.
Never remove Your love from us.
Praise to You, Adonai, who loves Your people Israel.