Common Prayers for Shabbat Evening
From Exodus 15:11, praising God for our redemption from slavery.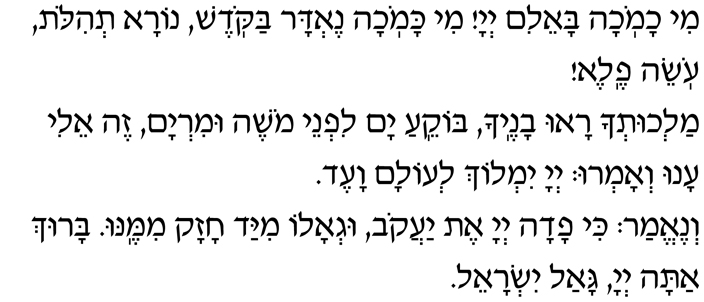 Mi chamochah ba-eilim, Adonai!
Mi kamochah nedar bakodesh,
nora t'hilot, oseih fele!
Malchut'cha ra-u vanecha,
bokei-a yam lifnei Moshe uMiryam.
Zeh Eli, anu v'amru,
Adonai yimloch l'olam va-ed!
V'ne-emar: ki fadah Adonai et Yaakov,
ug'alo miyad chazak mimenu.
Baruch atah, Adonai, gaal Yisrael.
Who is like You, O God,
among the gods that are worshipped?
Who is like You, majestic in holiness,
awesome in splendor, working wonders?
Your children witnessed Your sovereignty,
the sea splitting before Moses and Miriam.
"This is our God!" they cried.
"Adonai will reign forever and ever!"
Thus it is said,
"Adonai redeemed Jacob,
from a hand stronger
than his own."
Praised are You, Adonai, for redeeming Israel.

Baruch atah, Adonai, gaal Yisrael.