Last Blessing Preceding the Sh'ma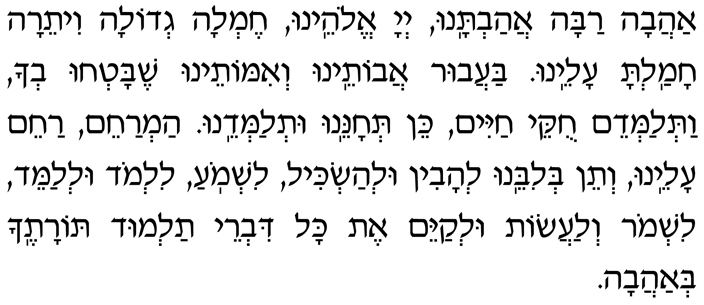 Ahavah rabah ahavtanu, Adonai Eloheinu,
chemlah g'dolah viteirah chamalta aleinu.
Ba-avur avoteinu v'imoteinu shebat'chu v'cha
vat'lamdeim chukei chayim, kein t'choneinu
ut'lamdeinu. Ham'racheim, racheim aleinu,
v'tein b'libeinu l'havin ul'haskil, lishmo-a,
lilmod ul'lameid, lishmor v'laasot ul'kayeim
et kol divrei talmud Toratecha b'ahavah.
How deeply You have loved us Adonai, our God, gracing us with surpassing
compassion! On account of our forebears whose trust led You to teach them the laws
of life, be gracious to us, teaching us as well. O Merciful One, have mercy on us
by making us able to understand and discern, to heed, learn, and teach, and, lovingly,
to observe, perform, and fulfill all that is in Your Torah.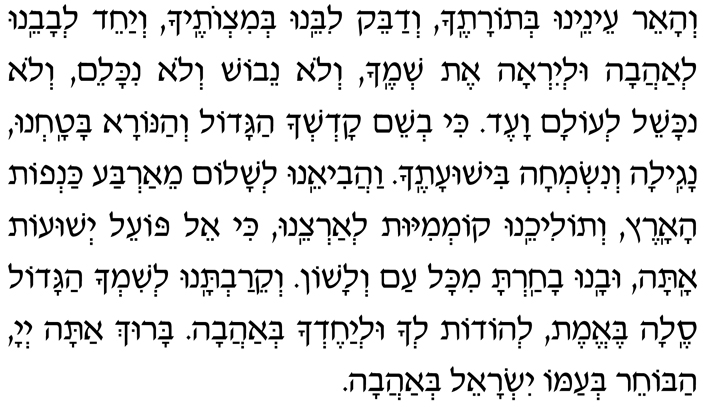 V'ha-eir eineinu b'Toratecha,
v'dabeik libeinu b'mitzvotecha,
v'yacheid l'vaveinu l'ahavah
ul'yirah et sh'mecha,
v'lo neivosh v'lo nikaleim,
v'lo nikasheil l'olam va-ed.
Ki v'sheim kodsh'cha hagadol v'hanora
batachnu, nagilah v'nism'chah bishuatecha.
Vahavi-einu l'shalom mei-arba kanfot
haaretz, v'tolicheinu kom'miyut l'artzeinu.
Ki El po-eil y'shuot atah, uvanu vacharta
v'keiravtanu l'shimcha hagadol selah be-emet,
l'hodot l'cha ul'yachedcha b'ahavah.
Baruch atah, Adonai,
habocheir b'amo Yisrael b'ahavah.
Enlighten our eyes with Your Torah, focus our minds on Your mitzvot, unite our
hearts in love and reverence for Your Name. Then we will never feel shame, never
deserve rebuke, and never stumble. Having trusted in Your great and awesome
holiness, we shall celebrate Your salvation with joy.
Gather us in peace from the four corners of the earth and lead us upright to our land.
For You, O God, work wonders. You chose us. Truly, You drew us near to Your
Great Name, that we might acknowledge You, declaring You One in love.
Praised be You, Adonai, who chooses Your people Israel in love.

Baruch atah, Adonai, habocheir b'amo Yisrael b'ahavah.