Image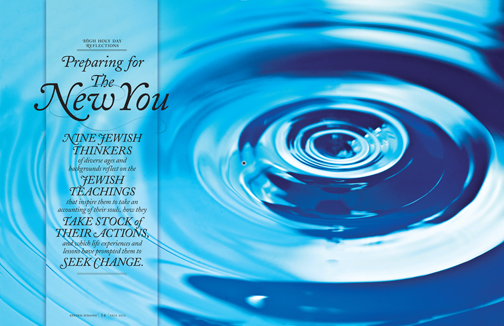 Nine Jewish thinkers of diverse ages and backgrounds reflect on the Jewish teachings that inspire them to take an accounting of their souls, how they take stock of their actions, and which life experiences and lessons have prompted them to seek change.
What do you find to be the most inspirational Jewish teaching on preparing yourself for spiritual renewal in advance of the High Holy Days?
Theodore Bikel (actor, musician, activist): I find the most comfort, solace, and thought-provoking source of renewal in the teachings of Reb Zalman Schachter-Shalomi. I, a secular Jew, am closest to my roots when Reb Zalman speaks, sings, smiles, and permits thoughts to mingle from the many sources upon which he draws. This Chassidic rabbi is the most intellectually curious human being I know. What do I learn from him especially on the High Holidays? I learn about forgiveness, about how to forgive myself before I know how to forgive others. From him I learn about forgiveness, about how to forgive myself before I know how to forgive others. Reb Zalman knows that this does not come easily to us, that anger must become sorrow, and sorrow become shared suffering before it can become love.
Rabbi Rachel Cowan (director, Institute for Jewish Spirituality): The teaching I most often turn to comes from This is Absolutely Real and You are Completely Unprepared, the late Rabbi Alan Lew's brilliant guide to spiritual preparation for the holidays.
Some background: When I converted to Judaism, Tisha b'Av was very meaningful to me; I would fast and study Lamentations as I contemplated the horrors of the destruction of Jerusalem. But when I began to visit Israel regularly, I decided Tisha b'Av was irrelevant, now that the state had been reestablished and rebuilding the Temple in a hostile political environment would pose grave danger.
Since reading Rabbi Lew's book, I have resumed observing Tisha b'Av. He taught me that the destruction of the Temple is a metaphor for examining one's inner life-to find the structures that no longer serve us. This is an important way to begin the reflection of the High Holy Day season, for we cannot change ourselves until we clearly see the structures that constrict our spirit and keep us attached to small-minded, self-centered ways of mind and heart.
In my case, these may be stories in which I have made myself the victim, the hero, the martyr, the failure. They may be habits such as eating too much, not exercising enough, taking on too much work. Or they may be cravings for material possessions or experiences that in the end will not make me happier.
To do the subtle work of t'shuvah, we must free ourselves from these structures and instead manifest the attributes of God that we chant over and over in the High Holiday liturgy: compassion, grace, patience, loving-kindness, and truthfulness.
So I begin my High Holiday practice on Tisha b'Av by re-reading Alan Lew's book, and then during the Hebrew month of Elul, I sit in meditation to begin identifying the structures that no longer serve me.
Cantor Susan Caro (president, American Conference of Cantors): Every day during the month of Elul I read two texts. The first is from Ben Sira (28:2): "Forgive your neighbors [their] transgressions, and then when you pray, your sins will be forgiven." This reminds me that opening my heart to others allows them to see me in a new light and enables them to open their hearts to me. When I am attuned to healing the hurts of others, I can find healing in my own heart.
The second is from Reb Nachman of Bratzlav: "O God, help me avoid every abuse of speech. Let no untrue word escape my lips. I pray that I may never speak badly of others, or speak empty words of flattery. Help me stay away from profanity. Teach me, dear God, when to keep silent and when to speak; and when I speak, O God, save me from using Your wonderful gift of speech to humiliate or hurt others." Our words hold power; they hang in the air long after we have uttered them, like a cloud which can bring either comforting shade or a terrible storm. Each day I consider the kind of clouds I wish to create around me through my speech and my silence.
Cynthia Roosth Wolf (Board member, Temple Emanuel, Beaumont, Texas and Executive Committee, WRJ Board): Pray as if everything depended on God; act as if everything depended on you.
I pray as if everything depends on God because I know my own limitations. Still, throughout the year, I act as if everything depends on me. I do my best to show kindness toward others, especially those who are in need. One such kindness prepares me for the observance of Rosh Hashanah and Yom Kippur:
My son Marc, who became a lay chaplain during his service in the U.S. Navy, made me keenly aware that our Jewish soldiers need to have some normalcy in their lives. As a promise to Marc, I became their advocate, helping to usher in WRJ and URJ resolutions to "support our Jewish troops," and sending kosher food and Judaica to Jewish chaplains and lay leaders around the world to help soldiers celebrate Jewish holidays and festivals. Every time my efforts result in meeting a soldier's needs, I feel a sense of shalom.
This year will be no different. As I prepare for Rosh Hashanah, the chaplains' requests for our Jewish soldiers will be filled first, before guests are invited to my home for erev Rosh Hashanah, before cards are shared with family and friends, before anything else.
The other quote that directs me in cheshbon hanefesh (accounting of the soul) is of Native American origins: Never criticize a man (or woman) until you have walked a mile in his (or her) moccasins.
When someone harms me with words, I wonder what is going on with that person that made him/her say it. Is this generally how the person responds to me, or is it an unusual occurrence? Either way, would he/she have spoken that way to me had he/she taken the time to walk in my moccasins?
Rabbi Lawrence A. Hoffman (Barbara and Stephen Friedman Professor of Liturgy, Worship and Ritual at Hebrew Union College-Jewish Institute of Religion in New York and author, most recently, of One Hundred Jewish Books: Three Millennia of Jewish Conversation, BlueBridge Press): I am increasingly moved by Psalm 27:4, which we sing every day during Elul services at HUC-JIR and which I try never to miss: "One thing I ask of Adonai. It alone do I seek: to live in Adonai's house all the days of my life."
For the psalmist, Adonai's house was the sacrificial Temple in Jerusalem. Today it is the synagogue. So as I sing the psalm, I look forward to High Holy Day worship in a synagogue. I focus on the possibility of experiencing God's presence there, and-knowing the blessing of starting all over again-my slate cleared of sin, resentment, and fear.
In a broader sense, I interpret "God's house" as encompassing the whole world. So, I pray for regularized moments of eternity-by which I mean daily reminders of God's reality. I have, more or less, somehow managed to attain the ongoing serenity that silences the cacophony of daily life; and I want to retain that gift. High Holy Day preparations remind me that regardless of where I am and what day it happens to be, I am sustained by God, directed to a higher vision, and able to face whatever comes my way.
How do you take stock of your actions-and interactions-of the previous year?
Rabbi Richard N. Levy (director of Spiritual Growth, HUC-JIR in Los Angeles): Before I go to the market, I like to make lists. I look in the cupboards, see what is missing, in short supply, or might add some delight to our family's life. Once in the market, I find my list helps me to avoid overlooking anything and being distracted by attractions on every side.
In Elul, the month preceding Rosh Hashanah, I do the same thing. I take out my pocket calendar, look through every day of the waning year, and reflect on each day's events-where did I fall short, what was missing in my actions, on what good qualities was I running low? What new actions would add some holiness to my life?
I bring the list to Selichot, and to services on Rosh Hashanah and Yom Kippur, and compare its items to the specific sins in Al Chet. I remember the circumstances of each chet, each mark I missed; each avon, each time I twisted the path God set before me; each pesha, each time I outwardly rebelled against what I knew was right. I think, too, about having composed my solitary list of sins by myself, when the Al Chet phrase says, "the sin which we have sinned before You." It is an important reminder that I am part of a company of list-checkers; the ruefulness and shame I feel are shared by others. We all stand lefanecha, "before You." We can face God with this list. God does not turn away, and we do not have to either.
Is a synagogue like a market? When I buy a fatty dessert in the market, there is no countervoice to the colorful packaging. But in the synagogue, shelves of Torah scrolls remind me of the desirable deeds and qualities God has placed within my grasp, and the consequences of ill-thought actions.
On the High Holy Days there really is no turning aside-because in the synagogue God is right there with me. When I confess an avon or a chet, God directs me straight to the desired mark. Embracing me, the Holy One shows me how the path would look had I straightened rather than twisted it.
My Elul practice of list-making is a lonely enterprise. But because I know that each sin I list will pump life into an Al Chet in the prayerbook, making the list feels like my preparation for a covenantal experience. I will stand with my people in the synagogue as we stood at Sinai-but now it is not God who is speaking Torah to us; we are speaking to God, enumerating the ways we have departed from Torah. In the moral supermarket of the synagogue, God stands beside us, gently guiding our choices for the year ahead.
Theodore Bikel: The Hebrew phrase that describes the High Holidays is to me deeply troubling. The common English translation is a euphemism, a softened version of what the Hebrew actually says. Yamim Noraim is rendered as "days of awe." Awe denotes wonder, admiration, respect, veneration. But the accurate rendition of Yamim Noraim is "days of dread," and that denotes fear, terror, trepidation, and anxiety. If God is real, a higher being with anthropomorphic features and faculties, then I owe an accounting to God, a retelling of the year's transgressions so I can take my punishment as the boys did in cheder (old-world Jewish elementary school) at the hands of the rabbi. But if God is a concept, an idea, an omnipresence, undefined by shape and substance, then I owe the accounting to a much harsher judge: myself. And I can't lie. Denial does not work when you are submitting to the inner judge. You know very well what you did; and you also know what you failed to do.
I am 88 years old and, frankly, I am not prepared to deal with the mystery of dying. I am not even ready to admit that there is such a thing as decline. Self-deception works most of the year-except on Rosh Hashanah and Yom Kippur. I confess that I fall apart whenever I hear Al tashlicheynu le'eyt zikna, "Do not banish us as we grow old, and as we grow weak do not abandon us." That is when the tears come, unreasonably, because I may be old, but I do not feel weak. Then I realize that the tears are not for me; they are for the aged and ailing I know and meet, for men and women in old-age homes, in hospitals and hospices. For them I hope to be the melitz yosher, the advocate, the interlocutor. Singing for them, playing for them sometimes works. What works best is letting them hear the sounds of their youth and the language of their childhood, Yiddish.

I myself have such attachments. The places of worship where the sounds of prayer speak to me are those that still use the Ashkenazic Hebrew rather than the Sephardic. I speak, read, and write modern Hebrew, and I lived in what is now Israel for eight years. Might I not be forgiven for relating less to liturgy and prayer in the language that I also employed while ordering scrambled eggs? My attachment to Ashkenazic Hebrew-and to Yiddish-is a tribute to my grandfather Reb Shimen Bikel Hacohen z"l and to my father, the socialist, the Hebrew and Yiddish scholar Joseph Bikel z"l.
The questions of "who I am" and of "what is owed to whom" get to be in sharper focus on the High Holy Days.
Liz Lerman (founding artistic director, Liz Lerman Dance Exchange; member of Temple Micah, Washington, DC): As a child I choreographed and performed dances in the backyard of our Los Angeles home, sometimes spinning and spinning, then falling down and staring at the sky. Later, neighborhood kids joined me, rolling down the hill, all of us lying still at the bottom as the world careened by at crazy angles. Being off balance let us experience the world from a different perspective.
As an adult, in preparation for the High Holy Days, I rediscovered a different kind of spinning. To help rabbis engage people during Selichot I was asked to conduct movement workshops. As I thought about getting ready for the New Year, I realized that we are asked to "turn" in order to repent. I pondered: Are we turning towards or away? I brought that very question to the people, asking them to perform a simple gesture: Take your hand facing outward and allow it to slowly turn towards you. Repeat by reversing the pattern. As people interpreted the difference between the two motions, a simple act became a text for the night. One participant said, "You turn towards yourself in bringing unexpected memories into focus. You turn away by making space to reflect with honesty."
In dance, as in life, preparing for turns takes practice. With movement, different settings of my feet propel me around my center, and emphasizing the shoulders or swinging around the second arm can facilitate navigating more than a single spin. "Landing" a turn requires a combination of physical dexterity, enormous concentration, and luck.
It is curious to apply these ideas to relationships over the sweep of a year….For example, did I use too much energy in one relationship and not leave enough room for others? Should I have paid more attention to the way I set this one up? Could I have taken more risk and pushed harder?
One of the unfortunate outcomes of the false dichotomy of mind and body is that we are less experienced in understanding how physical action relates to thought, metaphor, and imagery. Within the Jewish community I have sometimes said, with a bit of a wink, that we are frightened to get into our bodies for fear of losing our minds. Quite the contrary: Sometimes taking a walk will help us solve a problem, holding hands while praying can bring a deeper connection, and a choreographed gesture may help us synthesize a new vision.
Dance has helped prepare me for the wondrous opportunity of the High Holy Days-a time to be thoughtful as I turn to face the past year, even as I relish the chance to spin.
Cantor Susan Caro: As the Yamim Noraim approach, I tend to block out the hurts I have caused others in the past year. Knowing this about myself, throughout the year I record in my journal instances when I have hurt someone or have not lived up to the best in me.
My personal practice involves singing. Humming a song or niggun (wordless melody) each day from the beginning of Elul opens my heart, clears my head. Rabbi Schneur Zalman of Liadi teaches, "If words are the pen of the heart, then song is the pen of the soul." Through the physical vibrations of music and the spiritual nature of melody, I transform the thoughts of my heart to the pleadings of my soul, hopefully expanding my capacity for teshuvah.
Cynthia Roosth Wolf: Being human, I have flaws…but I never intentionally do anything that would damage another person's self esteem. Knowing that we are all sacred souls, throughout the year I think about what I can do for others to make them feel valued, loved, respected, and remembered. Therefore, when it comes time to plan for the High Holy Days, I am already engaging in the never-ending process of cheshbon hanefesh.
What prompted you to seek change?
Emily Goldberg (high school junior, Abraham Joshua Heschel School, New York, New York): 86,400.
The number 86,400 defines our time slot-the number of seconds-in one day. Within this seemingly large span of time, we have the potential to build and improve each day or utterly destroy it. Over time, seconds tend to pile up, some wasted and unnoticed and others misused and neglected; frequently we extend these seconds of regretted decisions and poor judgments into minutes, days, and weeks. It is only during the final days before entering a new year that we stop and reflect upon them.
Last summer I realized that the seconds we waste in life are not renewable resources. At Camp Ramah Darom in Clayton, Georgia, I reunited with 72 friends, among them Andrew Silvershein, a 16-year-old aspiring musician, avid writer, and South Florida resident whom we all referred to as "Sunshine" because of his optimism and unremitting friendliness. None of us knew that our first reunion as 72 campers would be our last.
While whitewater rafting on the Ocoee River in Southern Tennessee, one of the rafts holding seven boys overturned. Six made it safely to land; Andrew, however, was not so lucky. His foot was wedged underneath a rock, and after approximately eight minutes underwater, he was rushed to a local hospital where he passed away. I will never forget that long afternoon of waiting and praying around the campsite, the hours of silence engulfing us, the endless seconds of grief that followed, the countless times my friends and I angrily looked up at the sky and doubted God's omniscience and loyalty to His own creation. Today, Andrew's memory will forever remain a blessing; it serves as a reminder that not a single second in life should be taken for granted.
In my accounting of the soul, I wish I had taken better advantage of Andrew's short time in my life. Too many seconds passed when I stayed silent as Andrew shared his songwriting talents. Too many seconds of potential conversations, laughter, learning opportunities, and friendship-building disappeared because I let them slip out of my hands.
Now, I vow: If life presents me with an opportunity to chazak v'nitchazek , to strengthen and be strengthened by another person, I will no longer remain silent.
The events in our lives may construct or destruct our faith, but we still have 86,400 seconds each day to turn silence into memorable relationships.
Cantor Susan Caro: Over the past two years, a series of miscommunications and misunderstandings seriously undermined my relationship with a longtime friend. The more accusatory and distrustful I became toward my friend, the more it sapped my positive energy and clarity of thought. Ultimately, it became more important to me to heal the relationship than to prove who had been "right" about this or that. I reached out and asked for forgiveness for my part in weakening our friendship, and I pushed for us to speak honestly, however painfully, to potentially rebuild a trustful friendship. Because my friend was willing to take that leap with me, I feel more at peace today, not only in that relationship, but in all my other friendships as well.
Yom Kippur has to be about seeing both the big picture and the minutiae. In parashat Ha'azinu, Moses tells the People to see God in the droplets of dew falling upon them-in "the small stuff," I would say. Moses then concludes the poem by reminding the Israelites to take to heart all of the words he has spoken-which I take to mean seeing both the droplets and the growth they nourish.
Rabbi Stacia Deutsch (author, 50+ children's books and the forthcoming Divorced Family Guide to Jewish Life ; member, Temple Beth Sholom of Orange County, Santa Ana, California): Last summer I took a life-changing trip to Malawi, Africa. I witnessed safari wildlife and native culture I'd never before seen-along with abject poverty (70% of the people live on a dollar a day), cemeteries for those who die of HIV/AIDS, and food shortages. My friends own a restaurant where the cooks steal pizza dough in their pants and cheese in their shoes. People are desperate.
Overcome with the realization of how much I take for granted, I took an immediate cheshbon hanefesh and concluded that I had fallen short. I vowed right then to count my blessings and do what I could to help others in need.
Jewish tradition teaches that we are each required to say 100 blessings a day. In Deuteronomy 10:12 the text says, "Now, Israel, what does God ask of you?...To walk in God's ways...and to serve God." The Hebrew word mah ("what") is similar to the word me'ah, which means "one hundred." Our rabbis interpreted this verse as "Now, Israel, a hundred does God ask of you."
A hundred blessings a day. Upon returning to the States, I started off strong. Then I faltered. In less than a month, amidst the flurry, challenges, and complaints of daily life, the revelation of all I have to be thankful for quietly slipped away.

I've kept trying. Sometimes I feel like Abraham negotiating with God for the lives at Sodom and Gomorrah, only I'm negotiating blessings. "So God, 100 blessings a day is too many, how about 40…30…20? What if I brought you one heartfelt thank you every day?"
You'd think just one-a-day would be simple to come by, but still, days pass and I forget to be grateful. I fail to allow my blessings to flow to those around me.
Blessings are a call to action. If we could each achieve 36,500 moments of gratitude each year, the sheer number would uplift our souls. From that joy would come the desire to help others obtain one hundred blessings in their lives.
The upcoming High Holy Days give me another chance. A hundred blessings a day, from the new year of 5773 onwards.