Image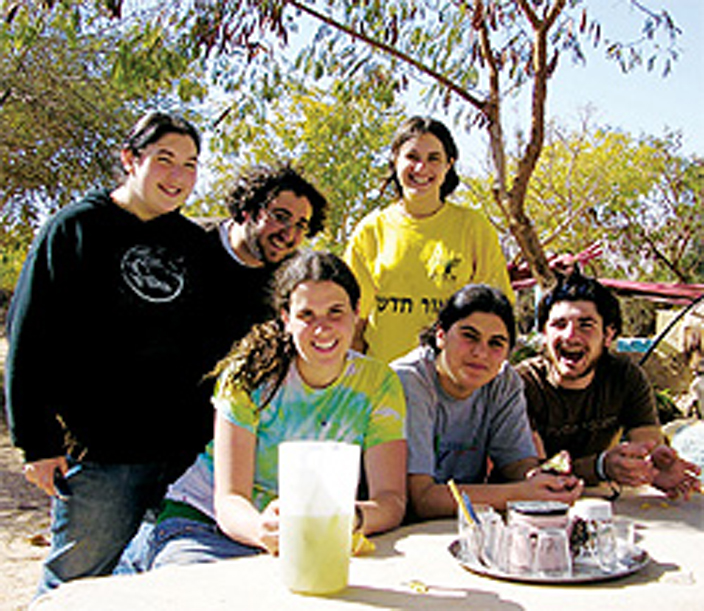 Emma Peabody of Anshe Emeth Memorial Temple in New Brunswick, New Jersey is enthusiastic about her courses in "Biblical Theology" and "Women in Israel" at the University of Haifa, part of the Reform Movement's Carmel one-year college program in Israel. While she jokes that being a Reform Jew in Israel "means getting used to being permanently misunderstood," she also savors experiences she could have only in the Jewish state—like celebrating Shabbat with Israelis in Progressive Jewish congregations throughout Israel and spending a month at Kibbutz Lotan, where she helped build an eco-village while learning about Jewish environmental ethics.
Jason Barnett of Shawnee, Kansas (and The Temple, Congregation B'nai Jehudah in Overland Park) relishes the opportunity for Jewish learning, Jewish living, and spirituality that Carmel represents—combining academic courses at the University of Haifa with a Progressive Beit Midrash at the Lokey International Academy of Jewish Studies and the Leo Baeck Education Center.
Hannah Rubin-Schlansky of Congregation Temple Israel in St. Louis wanted to study Hebrew and Jewish history in an academic environment, so she chose to spend her junior year at Ben-Gurion University in Beer Sheva—far from the large English-speaking populations of Jerusalem and Tel Aviv—where she could live and speak Hebrew with Israelis. There she fell in love with the Negev, camping and hiking in the desert and participating in Ben-Gurion University's vibrant campus life.
Heather Zeiden of Modesto, California (and Temple Israel in Stockton) wanted to pursue her interests in art and spirituality. She chose Livnot U'Lhibanot ("to build and to be built"), a program for people in their twenties and thirties located in Tsfat, a small northern town known for its artists and kabbalists. These days she divides her time between studying Jewish texts in a communal environment and volunteering, both at an immigrant absorption center and at a local elementary school where she has painted a mural, sparking an interest in arts education and art therapy with children.
Bringing young people such as Emma, Jason, Hannah, and Heather to Israel for a meaningful period of time is the mission of MASA (which means "journey"), an ambitious initiative for promoting more than 150 independent Israel programs of five months or longer. Created in 2004 by the Israeli government and the Jewish Agency, MASA aims to bring more than 50,000 18–30-year-old Diaspora Jews to the country every year and inspire them to experience Israel firsthand while pursuing their own academic, career, and/or personal goals. MASA offers each participant a minimum of $2,000; additional grants and scholarships are available based on length of stay and need.
In June 2006, the Union for Reform Judaism entered into partnership with MASA, adding new programs to the MASA menu (such as Shnat Netzer, a 10-month leadership training program for graduates of the International Reform Zionist Movement; Arava: The Jewish Environmental Institute on Kibbutz Lotan, a 9-month accredited college program; Tamarim, a 10-month URJ program for recent high school graduates at Haifa University and the Lokey Academy; and Kesher L'Yisrael, a semester at a university in Haifa or Jerusalem sponsored by the URJ) and encouraging Reform students to participate in many of MASA's other offerings. It's a diverse selection—post-high school (or gap-year) programs designed to build confidence and maturity in independent living; accredited college-year programs; post-college programs for Jewish learning or professional training in the sciences, music, and art; practical internships in journalism, business, medicine, and other fields; Hebrew ulpanim;and more. "An extensive experience in Israel during young adulthood," says Rabbi Andrew Davids, executive director of the Association of Reform Zionists of America, "is almost a guarantee of a lifetime relationship with Israel and with Judaism."
In the aftermath of last summer's war with Hezbollah, more than 100 young Jews engaged in a constellation of volunteer programs collectively called Go Galilee, bringing their own unique skills to assist Jewish and Arab communities throughout Israel. Volunteer experiences are part of many MASA-affiliated programs. Zev Marmorstein from Pacific Palisades, California, a participant in the Young Judaea Year Course, taught disabled Israeli youths to sail at the Tel Aviv marina; Jared Blumenfeld of Temple Emanuel of Beverly Hills helped students in a poor neighborhood of Tel Aviv develop computer skills.
Recognizing the value of a long-term Israel experience in building strong Jewish identity, the Reform Movement hopes that the partnership with MASA will make study in Israel possible and affordable for every Reform young adult. As Carmel participant Jason Barnett explains, "Israel can't survive without the Diaspora…and the Diaspora can't survive without Israel." 
Bonny V. Fetterman, RJ's literary editor, visited various programs on a MASA-sponsored trip to Israel in March 2007.
Reform | MASA Programs
Tamarim
A 10-month Reform study and travel program in Israel for recent high school graduates. Earn college credit while studying at Haifa University. Choose from one of 3 tracks while living with other NFTY and Netzer international alumni. Ages 17-19
College Semester in Israel
Study for a semester at a major Israeli university in Jerusalem or Haifa and earn college credit. Includes traveling and learning with Reform leaders in Israel. Ages 19+
ARAVA—The Jewish Environmental Institute on Kibbutz Lotan
A 9-month accredited program focusing on social-environmental issues from a Reform perspective and a Green Apprenticeship for full college credit. Ages 20+
For more information please visit www.rjisrael.org.