Image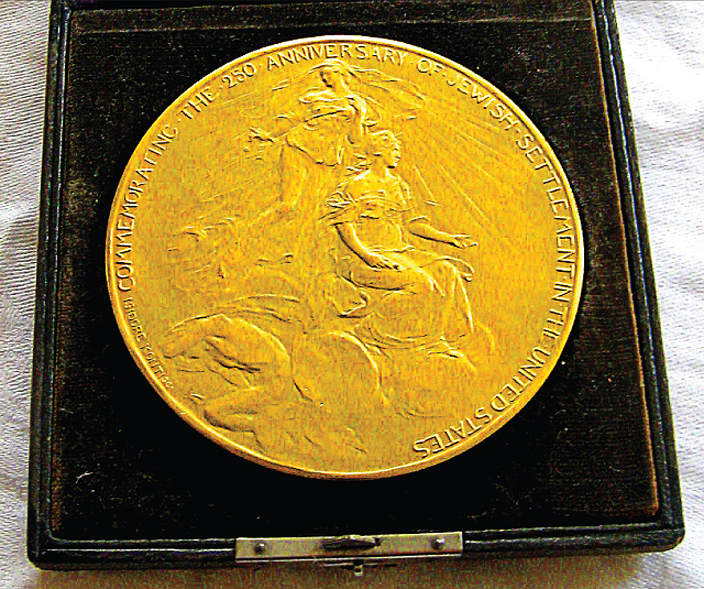 Dear Jonathan,
Years ago a dear friend who has since passed away gave us this 1905 medallion, which commemorates the 250th year of Jewish settlement in the U.S. We cherish it as a remembrance of her love, and are curious to know its value. We think it's more likely to be bronze than gold, as we've been told that of the 322 medallions manufactured, only two were made of gold. What do you think?
Thanks so much,
Esther Herst and Gino Gianola, Temple Beth Am, Seattle, Washington
---
Dear Esther and Gino,
You have a wonderful bronze medal made by the Viennese sculptor Isadore Konti (1862 - 1938).
You are correct that only two gold medals were produced. On November 30, 1905 department store magnate Oscar Strauss presented them to two U.S. presidents-President Grover Cleveland and President Theodore Roosevelt-as part of a ceremony at New York's Carnegie Hall that banker and philanthropist Jacob Schiff had organized in honor of the 250th anniversary of the settlement of Jews in America. In addition, 36 silver medals were created; we do not know to whom they were distributed. They have not been sold to date.
The bronze medals sell in the $700 - $900 range. President Cleveland's gold medal sold at auction in October 2010 for an astounding $69,000. President Roosevelt's gold medal has been sold at an unnamed price to a private collector.
Enjoy your piece of Jewish history.
Jonathan Greenstein, founder, J. Greenstein & Co.
Send new reader inquiries to jgreensteinco@aol.com.
Dear Jonathan,
Thank you. We really appreciate knowing more about our medallion, and will keep it in our family.