Image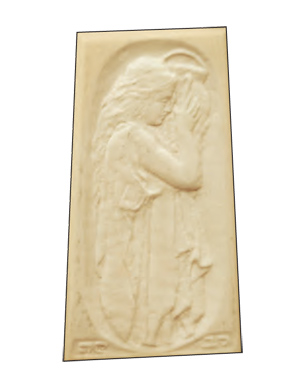 Dear Jonathan,
In 1936 my father bought two ivory, hand-carved silver filigree pieces, one of Moses and one of Rebecca, made in the Bezalel Art School in Palestine. I would be interested in knowing their value.
Norman Olshansky
Sarasota, Florida
 
---
Dear Norman,
These are wonderful!
First, a word about the Bezalel Academy of Art and Design in Jerusalem. Founded in 1906 by Professor Boris Schatz, a Lithuanian Jewish artist and sculptor, the school was named after the biblical artisan who designed the Tabernacle and its ritual objects. Shatz's vision was to develop a "Jewish" style of art in Palestine. Until that time, Jews creating Judaica would adopt the style of art prevailing in their area and era; for example, Jewish artists living in Germany in the 1890s would usually fashion objects in the Art Noveau style. Under Schatz's direction, the Bezalel artists portrayed biblical and often traditional themes in innovative ways. As a result, Bezalel is the only place you can find, for example, a brass wall lamp hammered by a Yemenite Jewish immigrant influenced by Jugendstil (an Art Nouveau-type artistic style with floral and later more abstract elements). Specialized departments worked in different media, from painting to silver to carpets. The work was displayed at exhibitions in Palestine and abroad, and its sale helped support the school.
Your ivory pieces are rarities, as the Bezalel school produced few works in this medium. In addition, your possession of the original sales slips makes them even more valuable. I've often seen such ivory pieces achieve strong prices at auction. Value: $3,000 - $5,000.
Jonathan Greenstein, J. Greenstein & Co.
Inquiries: Jonathan@JGreenstein.com
 
---

Dear Jonathan,
Thank you. Now I'm even more pleased to have these family treasures.