Image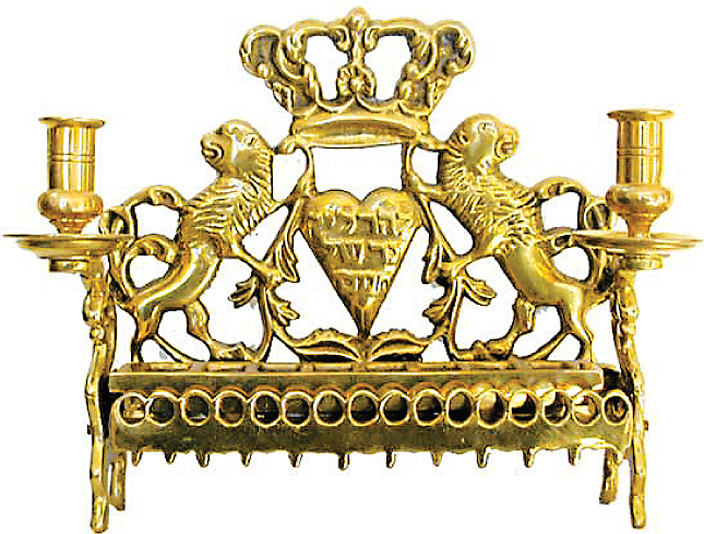 Dear Jonathan,
I got this menorah from my grandfather, who got it from his uncle, who brought it to this country before 1900. I would appreciate any information about it and an approximate value.
Sheldon Ginns, member of Temple Beth Emeth, Ann Arbor, Michigan
Dear Sheldon,
This sweet, folk artsy, brass Hanukkah lamp was made by an unknown metal smith in Poland sometime between 1840 and 1920. It was a very popular model. Yours, however, appears to be an earlier version, as the casting on the lions, the central heart, and the body is very sharp. Later models were cast and copied from the earlier ones, creating a dulling effect similar to what you get when you make a photocopy of a photocopy of a photocopy…it's less clear over time. A later version of this lamp would sell for about half the price.
Most Jews of the time bought Judaica in brass, a much less expensive metal. Silver was only for the "rich and famous."
An especially nice feature of your piece is the center cartouche, which states, "Lehadlik ner shel hanukkah" ("to kindle the lights of Hanukkah") and is in the shape of a heart. This demonstrates the artist's intent to show feelings of love for this holiday. Similar examples can be found in the Ukrainian Museum, the Jewish Museum of New York, and the Jewish Museum of London.
Its value: $1,500-$2,500.
Jonathan, jgreensteinco@aol.com
Dear Jonathan,
I am happy to have learned more about my menorah, including that similar ones appear in museum collections.
I have always cherished this menorah; it is on display in my living room all year long. It now will have even more meaning when I light it with my children this Hanukkah.
Sincerely, Sheldon