Image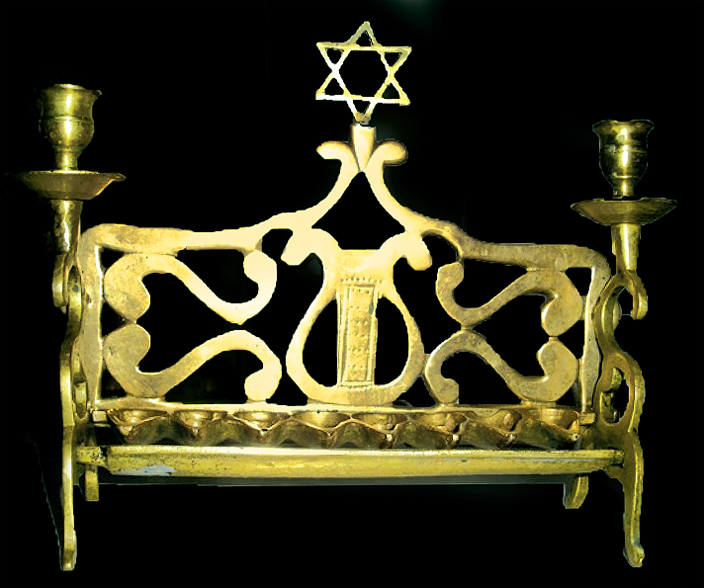 Dear Jonathan,
My father purchased this menorah in the mid-1940s at a Zionist Organization of America gathering in New York City. I recall his mentioning that it had been "gotten out" of Poland, probably prior to or just after the beginning of WWII.
If you could shed any light on its origins and/or value, it would be greatly appreciated.
Joan Abramson, Baltimore Hebrew Congregation, Baltimore, Maryland
Dear Joan,
You have a very lovely menorah! It is made of a brass composite, which is mainly brass and a small amount of copper melted in for color. It is in fact from Poland, as the style is typical of Polish brass shtetl work-the decoration of the harp in the center, for example, is characteristic iconography for this period of time. Most likely the menorah was created at about the turn of the 20th century, as the Magen David doesn't start appearing as a motif until then. It is a fairly common model of which I have seen a half dozen examples. Value: $800-$1,200.
Thanks and blessings,
Jonathan Greenstein, J. Greenstein & Co.
For new reader inquiries contact jgreensteinco@aol.com.
Dear Jonathan,
I am flabbergasted to learn how valuable the menorah is! It has always held sentimental value for me because of the manner in which my parents obtained it. I sent in the photograph on a "whim" and am overwhelmed by your response.