Image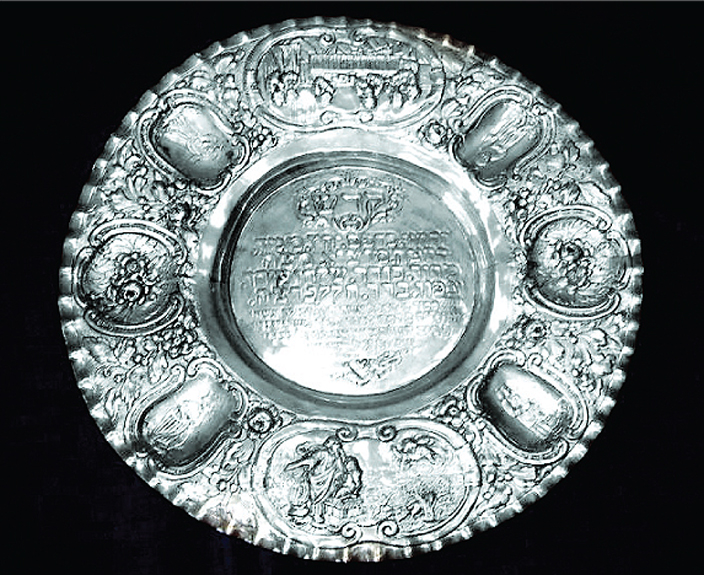 Dear Jonathan,
My father bought this silver seder plate about 35-40 years ago. The dealer told him it was from Pesaro, Italy and crafted of silver in 1614. It appears to be worn from use. Is it authentic?
Sharon Rothmel, United Hebrew
Congregation, St. Louis, Missouri
Dear Sharon,
Your family's beautiful seder plate was made in Germany-probably Hanau, the center of Germany's retail silver manufacturing trade-sometime between 1870 and 1920. If you look closely at the hallmark, you will see an 800, a moon, and a crown-the German Empire hallmarks placed on silver between 1870 and World War II; most Judaica objects with these hallmarks were crafted before 1920. While the plate is a somewhat common prototype, it is nonetheless rare; few Jewish homes had ornately designed plates such as yours, with floral patterns and haggadah scenes on the rim and with Moses, Aaron, Elijah, and David depicted in separate cartouches. In addition, the plate is 80% silver, the rest being copper, nickel, and other harder metals.
At auction, we have sold cast models like yours (which were copied in a wax form from an original handmade piece and then the mold filled with melted silver) in the $5,000-$9,000 range. Hand-chased models (where a silversmith used a hammer and chisel to forge the work from a piece of sheet silver) sell for approximately $15,000-$20,000.
Jonathan Greenstein, founder,
J. Greenstein & Co., Inc.
jgreensteinco@aol.com
Dear Jonathan,
I am amazed by how much you could tell me about the plate! I am glad my father never learned that the history the dealer gave him was incorrect. But knowing the truth doesn't diminish my pleasure in owning a beautiful Jewish artifact which our family will always admire and use.
Online Exclusive
Discover the value of your antique Judaica. Contact Jonathan Greenstein at jgreensteinco@aol.com.
You may see your story in a future RJ magazine.