Image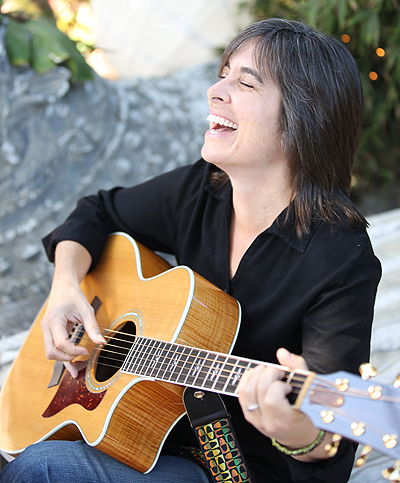 Julie Silver is one of the most celebrated and beloved performers in the world of contemporary Jewish music today. She tours throughout the world, and has been engaging audiences in the Reform Movement and beyond with her lyrical guitar playing, her dynamic stage presence, and her megawatt smile for over 25 years.
We spoke with Silver about how she came to make Jewish music, what inspires her, and what it's like to celebrate 25 years in the business.
When did your interest in music and Judaism first start to come together? What sparked it?
A number of seeds were planted when I was young. The first seed was being born into a family of people who loved music and sang. My parents constantly played music of all kinds around the house.
Also, I had a teacher named Aline Shader. She wrote children's songs, and at age five I was learning them. A few years ago I put out an album based on her work. I was raised at Temple Beth Avodah in Newton Massachusetts, an incredibly active and musical place. I just went back to celebrate their 50th anniversary weekend.
Though mostly it was Camp Pembroke in Pembroke, MA. That was where I saw women songleading for the first time. I was 8 years old and I thought, "That's it."
The camp was nondenominational, and there were parts of our services that were more traditional than others. Some of the melodies were really old, some were brand new. This really did it for me. I wanted to sing music like this. Camp sealed the deal.
What are some of your influences, Jewish and otherwise, for your music?
I was raised on a steady diet of folk music, Broadway, classical, rock and roll, jazz, blues - everything, really. If I were to name people I would say the Beatles, Joni Mitchell, Dan Fogelberg, James Taylor, Bonnie Raitt, the Carpenters. There was nothing I didn't listen to.
Of course, the music of Debbie Friedman, Jeff Klepper, Israeli songs, all of it had an impact. I've sung jazz, folk, children's music, and more traditional stuff too.
How do you think that music enriches a Jewish life?
Music is food for the heart. It brings people together. If you're asking how that happens, I'm not sure I have the words for it. But I do think it encourages people to let down their defenses. It allows them to face themselves and face each other with less inhibitions than they would otherwise.
Harmony fills the air. A thousand people from a thousand different places with a thousand different stories, singing with one voice and in one direction, well that has to have an effect on the world. The more singing, the more community.
How do you think that Judaism enriches a musical life?
As a Jewish artist, my eyes and ears are always in text and in Torah. In struggling with the Torah, in holding up the Torah, dancing with the Torah - every aspect of this relationship inspires me. Torah is the center of my life. It is not my only inspiration, but I am always inspired by our texts.
I had this experience once, while climbing a mountain in Ireland. I was struggling and two nuns appeared out of nowhere and helped me reach the top. They asked me what I did for a living, and I said, "I sing Jewish songs." And they asked me to sing these songs as we walked together up that mountain. I know this wasn't a Jewish setting, but climbing that mountain with those nuns brought me closer to my faith. And so I wrote a song about it, and I found a way to connect it to Torah, seeing these women as two angels who dropped into the scene and changed everything.
You just released a greatest hits album celebrating 25 years in the business. Congratulations! How does it feel?
Well in some ways I started songleading when I was 13, so we could say this is really my 35th year with a guitar hanging around my neck! But 25 years ago I truly began studying and learning in earnest;  digging deeper, writing more text-based songs, finding the right educators/rabbis/cantors and friends to guide me as I was building my career and traveling. Song-leading was the foundation. When I decided to make records and compose contemporary Jewish music, I knew I had a lifetime of learning ahead of me.
So really this is an anniversary of learning from the Jewish community, and putting this collectio together was a lot of fun. Soundswrite graciously put out this album, so it is a celebration of their work as well as mine.
In the past year I've sung for the National Council of Jewish Women, Women of Reform Judaism, and I just did a 25th anniversary concert for the Women of the Wall in Jerusalem. I'm excited to be working with the Wexner Foundation in August.
These are all organizations that embrace the values that I embrace, and to be alongside them during this time has been a great source of joy for me. I am a mother, I am a lesbian, and I am in an interfaith marriage, so I especially enjoy making music with like-minded activists.
Where do you see Jewish music headed in the 21st century?
The more people feel like they have freedom to treat text and write their own Torah, the more creative output we'll see. I am optimistic that more artists will take advantage of this freedom and will encourage others to do the same.
I think back to how Debbie Friedman had to fight tooth and nail to to do this. Because of her courage, I had it easier, and I hope the next generation takes it even further.