Image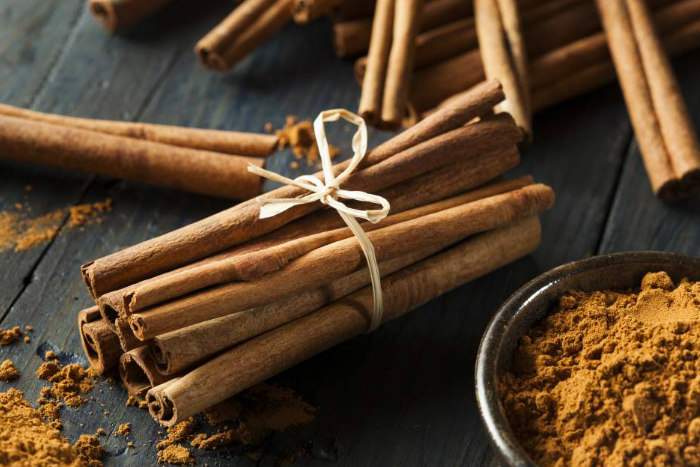 What's your autumn flavor of choice? Is it spiced pumpkin, or maybe seasonal apples? How about cozy cinnamon?
Sprinkling ground cinnamon over milk puddings or adding it to mixed nuts in pastries are familiar uses of this popular spice in eastern Mediterranean cuisines. Sephardi and Mizrachi Jews have introduced many cinnamon-flavored dishes to the Americas, making this aromatic spice a mainstay of our spice racks.
Here are 10 Jewishly inspired, easy to make, tried-and-true recipes featuring cinnamon that you're going to love.
Fill your kitchen with the comforting aromas of fall with Chef Katie Simmons' healthy, gluten-free, oil-free, sugar-free, and vegan baked stuffed apple recipe. Make it during Rosh HaShanah, when we traditionally eat apples, or save it for your sukkah during Sukkot. It's also perfect (and healthy) for an autumn Shabbat brunch.
For a sweet Shabbat and an especially sweet Rosh HaShanah, this variation on traditional challah adds apples to the dough just before braiding. To shape the round challah traditional of Rosh HaShanah, see Tina Wasserman's how-to video.
Pumpkins are believed to have originated in North America between 7000 and 5500 BCE. Spice up Sukkot and Thanksgiving with this easy-to-make dish from Tina Wasserman – made even easier if you use canned potatoes and pumpkins.
Tina Wasserman's angel pecans are the perfect treat for fall, when pecans are freshly harvested. Serve them in your sukkah during Sukkot, add them to your Rosh HaShanah cheeseboard, or snack on them any time you like!
Sufganiyot (jelly donuts) are Hanukkah treat. In these gluten-free dessert bites from Tina Wasserman, adding sweet potato not only adds great flavor but also replenishes some of the fiber that's lost when using gluten-free flour.
This Passover recipe comes from Rita Sasso, a Panamanian Jewish woman whose roots go back to Spain via Amsterdam and Curaçao, which had a significant Jewish population in the seventeenth and eighteenth centuries.
Unlike traditional Ashkenazi charoset, made with apples and nuts, this combination of dates and oranges certainly is closer to representing the mortar that the Israelites used to build the palaces and pyramids of Egypt – and is hard to resist. 
"Although everyone seems to have the same recipe with the same proportions," says Tina Wasserman, "mine always came out lighter and flakier." She learned the secret in Mrs. Goodman's kitchen more than 35 years ago and is happy to share it with us.
Tina Wasserman's unique recipe for sangria has a minimal amount of fruit juice added to the wine. However, the cinnamon-scented syrup, plus the limes and nutmeg, highlight the versatility of wine, and the resulting beverage is very refreshing.
As part of traditional Jewish baking, roly poly, a cookie/pastry confection, seems to have its roots in vintage British cuisine. Traditional roly poly calls for Turkish Delight, which indicates that perhaps British Jewish immigrants brought that recipe with them when they hit the American shores.
What's your favorite cinnamon recipes with Jewish origins? Have you tried making any of these? Let us know (and maybe show us your photos) on social media!