Image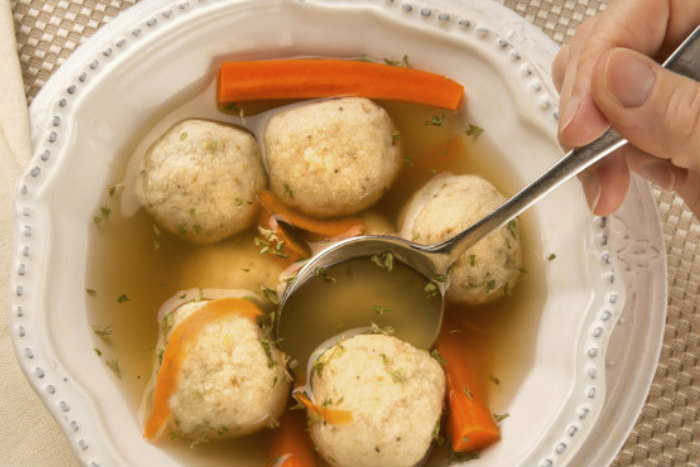 The weekly Shabbat meal is a favorite at URJ 6 Points Sci-Tech Academy, using recipes from faculty members, staff members, and some classic recipes used by professional chefs at the Governor's Academy. The 6 Points Sci-Tech Shabbat meal consists of brisket, kugel, tzimmes, potatoes, challah, and matzah ball soup — all homemade.
At 6 Points Sci-Tech, our food is an example of our goal to be inclusive in so many ways, accommodating all sorts of dietary needs and food allergies. Our gluten-free vegetarian matzah ball soup is on the table for every Shabbat, and everyone can eat it. The best part is that it tastes great and is served to everyone, regardless of any dietary need. You'd never know it was gluten-free if you weren't told.
Enjoy making this Sci-Tech favorite recipe... but if you want the rest of the dishes, you'll just have to join us at camp!
Ingredients
1 1/4 cup gluten-free matzah meal (we like Yehuda brand)
4 large eggs, separated
4 tablespoons gluten-free vegetable stock
1/4 cup olive oil
1/4 - 1/2 teaspoon salt (to taste)
1/4 teaspoon pepper
1/2 gallon salted water or vegetable soup for simmering the matzah balls
Directions
Separate the eggs whites and yolks. Place egg whites in a mixing bowl and whip until stiff peaks form.
In a separate bowl, whisk egg yolks, vegetable stock, and olive oil.
Place gluten-free matzah meal, salt, and pepper into bowl and stir to combine.
Use a large spatula to gently fold the egg yolk mixture into the matzah meal.
Gently fold the egg white mixture matzah meal mixture.
Refrigerate for at least 30 minutes.
Form mixture into balls and drop them into simmering salted water or gluten free vegetable soup; simmer for 30 minutes.
Learn more about URJ 6 Points Sci-Tech Academy in Byfield, MA, or find a Reform Jewish summer camp near you.