Image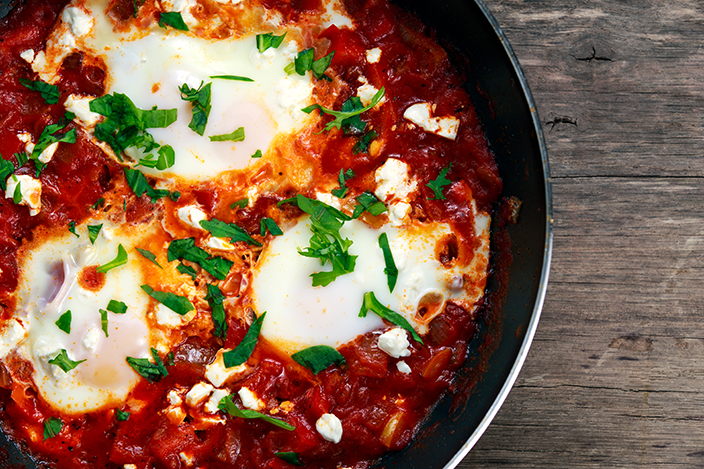 URJ Crane Lake Camp's favorite Sunday breakfast is our delicious shakshuka recipe. Shakshuka, Hebrew for "all mixed up," is an Israeli breakfast dish consisting of poached eggs in a cumin-spiced tomato, pepper, and onion sauce. Campers and staff alike love when our chef whips up this treat. Enjoy!
Ingredients
3 Tablespoons canola oil
2 medium yellow onions, chopped
1 large green bell pepper, cored, seeded, and chopped
1 large jalapeno chile, cored, seeded, and chopped
7 cloves of garlic, finely chopped
1/4 Cup tomato paste
1 (28-ounce) can whole peeled tomatoes, crushed by hand
1 bay leaf
2 1/2 Tablespoons sugar
1 1/2 Tablespoons kosher salt
1 Tablespoon sweet Hungarian paprika
1 Tablespoon ground cumin
1 1/2 Teaspoons freshly ground black pepper
1 Teaspoon ground caraway seeds
1/2 bunch Swiss chard or spinach, stemmed and chopped
8 -12 large eggs
Directions
Heat the oil in a large skillet.
Add the onions and sauté over medium heat until translucent, about 5 to 10 minutes.
Add the bell pepper and jalapeño. Cook just until softened, about 3 to 5 minutes.
Stir in the garlic and tomato paste and sauté for another 2 minutes.
Slowly pour in the tomatoes.
Stir in the bay leaf, sugar, salt, paprika, cumin, pepper and caraway. Let the mixture simmer for 20 minutes.
Layer the Swiss chard leaves on top.
Crack the eggs into the tomato mixture.
Cover and let simmer for approximately 10 minutes or until the whites of the eggs are no longer translucent.
Learn more about URJ Crane Lake Camp in West Stockbridge, MA, or find a Reform Jewish summer camp near you.