Image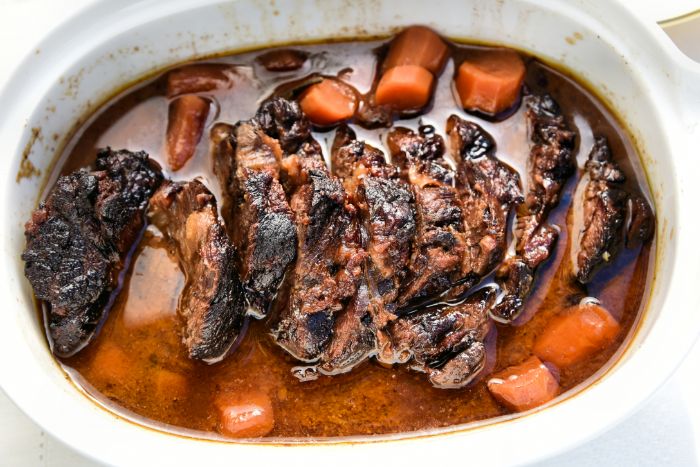 Ahhh, brisket, such a quintessential Ashkenazi Jewish food. Do you have a favorite recipe? If you've not yet decided on your go-to recipe, or you just want to try out a new one, we've got your covered with these seven recipes, all very different and all very delicious. 
Oh, and one more thing: Whichever brisket recipe you decide on, be sure to use the leftovers for tasty, crowd-pleasing Brisket Sliders topped with an especially delicious special sauce. B'tayavon!
Why save the best for last? We can't say whether this is truly the best (it's up to you to decide), but the sisterhood of Temple Kol Emeth in Marietta, GA, sure thinks it is.
This recipe from the sisterhood of Temple Brith Achim in King of Prussia, PA, comes with the note, "This is delicious, but I never tell anyone what's in it: beer and ketchup." We promise to keep your secret.
This recipe from Amy Kritzer's grandmother is sweet and tangy, made with ketchup, white vinegar, brown sugar, and more. Now you can say you're using grandma's secret recipe!
It doesn't get much easier than this, and, if you have sealed your heavy duty foil tightly, your pan won't get dirty and can go right back into the cabinet after cooking!
Cookbook author Marcy Goldman says she serves this brisket alongside tri-color Asian coleslaw for Hanukkah, Purim, and Shabbat. Don't worry: She shares that recipe, too. 
This recipe from the sisterhood of Temple Emanu-El in Tucson, AZ, includes ketchup, mustard, Worcestershire sauce, and more, perfect for Rosh HaShanah, Passover, or Shabbat.
The sisterhood of Temple Shalom in Naples, FL, shares this slightly citrusy recipe for orange roast beef to enjoy with your friends and family on any holiday... or just because. 
P.S.: Want event more brisket-related content? Listen to the "Brisket" episode of our storytelling podcast, aptly named Stories We Tell. 
If you like to cook, eat, and talk about food, try The Jewish Dish. Sign up for ReformJudaism.org's monthly food email for recipes, fun food facts, holiday tidbits, and more, all with a Jewish twist!