Image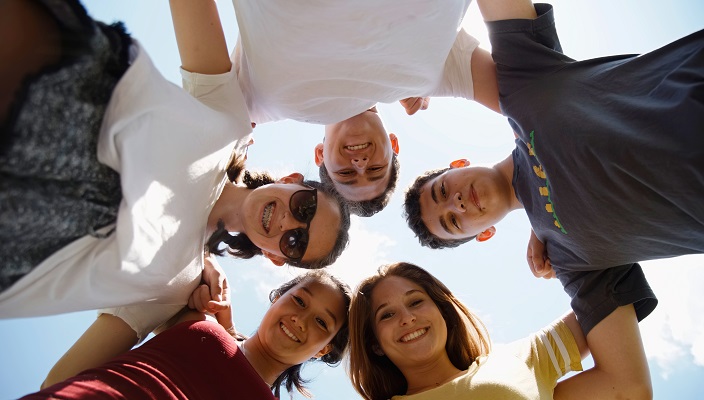 For more than a decade of our lives, summertime was been spent away from home, away from screens, away from parents. After so much time spent at URJ Greene Family Camp, a Reform summer camp in Bruceville, TX, camp feels like a second home – but it wasn't always that way. We were once first-year campers, too, and we remember all too well the fear of being away from our parents' home for the first time. 
Yet here we are, 10 years, later calling camp our home. It turns out that when you know how to make a new home wherever you go, adapting to new situations becomes far less stressful – and we have camp to thank for that.
After our first semester at college, in particular, we realized just how much camp prepares young people like us to be away from their families and hometown – successfully and happily – for extended periods of time. Though no one at camp is at a whiteboard "teaching" in the conventional sense, camp taught us how to rely on ourselves and be resourceful and capable individuals. At camp, we learned through the process of experience.
Here are five vital lessons we learned at camp that are serving us well in college:
1. How to handle new fears
That nervous feeling you get in the pit of your stomach on the first day of college? It's just like the feeling on the first day of camp. For some, it's nerves and butterflies; for others, it's nausea and fear. Before camp, we wondered, "Will we like our counselors? Will we become friends with the people in our bunk? What if we aren't in the activities we want? What if we forgot to pack something important, like a toothbrush or shower shoes?"
At college, these questions and fears translate easily by replacing counselors with professors, and bunkmates with roommates. Because campers were exposed to this anxiety-inducing process for so many summers, it becomes easier to feel comfortable getting acclimated to college life.
2. How to take care of ourselves
Some kids go through the first 18 years of life without ever doing laundry, but the knowledge of how to separate colors and whites has been engraved in our brains since our first summer at camp (where we also learned to partner up with our bunkmates and combine our clothes to conserve water).
Former campers have a leg up in the dining hall, too. Most young adults don't experience the freedom to choose what they eat until they leave home, but the campus dining hall is reminiscent of the camp lunch buffet. It's full of delicacies like fried chicken, stir fry, and pizza… with fruit and vegetables tucked away in a corner. Camp kids hone in on that corner and recognize the value in eating healthy to keep their energy high; we often have an advantage over the average student, for whom it can take longer to embrace healthy eating without parental insistence.
3. How to live with strangers
Camp taught us valuable lessons about cohabitation that serve us well in college: headphones are essential when someone else is in the room, because not everyone likes the same music; keep your area clean, because you're not the only one in the room; communicate often to try to manage any issues.
If your roommates end up being your best friend, great! And if not? Well, camp prepared us to deal with that, too.
4. How to go with the flow
Summers at camp are rapid-fire, mile-a-minute, ever-changing ordeals – as are college semesters. College is rife with last-minute adaptations – our classes can change times or professors or locations, the dining hall can stop making chicken tikka masala, and the dorms can fall victim to the terrifying screech of tornado drills.
Luckily, camp taught us a valuable lesson in the sacred principle of "going with the flow":  not only can things change, but sometimes that change is a good thing. When faced with the unknown, former campers know to charge forward with energy and optimism.
5. How to find your place
Camp is more than just a special place; to many, camp is home – and it teaches us lessons that our actual homes never could. From making new friends at camp to writing letters to friends back home, the most important lesson camp teaches us is simply how to be surrounded by other people and how to see value in those relationships.
Campers know how to let people into our lives, and we know how to keep them there. This is camp's true, golden lesson, and it has proven to be incredibly valuable in college – like we're sure it will be in all areas of life.
Use this tool to find the right Reform Jewish summer camp for your child.