Image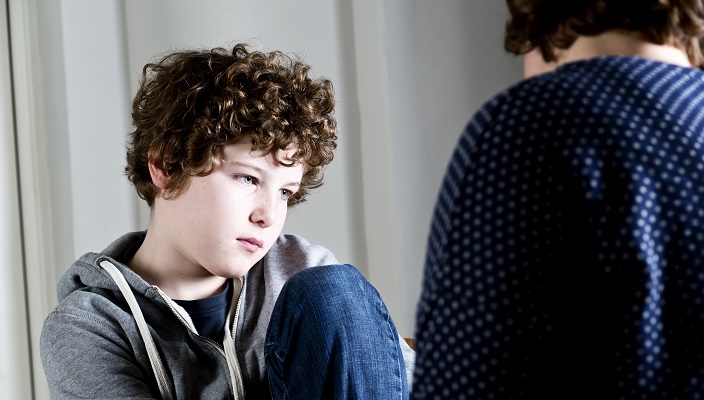 Children are brilliant at picking up nonverbal cues, which means that when a serious illness strikes within your family circle, they're likely to sense – from the change in your mood and whispered conversations – that something is not right.
If children smell a lie or suspect that you are not answering them in a straightforward way, they will allow their imaginations to fill in the blanks with scary scenarios that may be more terrifying than the reality. Don't be tempted to conceal the truth – but do be prepared to talk about it in an age-appropriate way.
Because children imagine that they have outsized powers, including the ability to cause a loved one's illness, parents need to gently inquire whether they are feeling responsible or guilty and assure them of their innocence. Here are a few things to keep in mind when you speak to your child about what's happening.
1. Prepare in advance.
It may be helpful to read "How to Talk to Kids about Bad Things Happening in the World," along with similar resources.
2. Set the tone for the conversation.
When initiating a difficult adult-child conversation, try to choose a relaxed time. Then take a breath, use a calm tone of voice (the melody here is more important than the lyrics), and get to the child's eye level.
3. Be direct.
It takes courage to convey a difficult message to a child in a simple and direct way, like "Daddy is very sick." Too often, parents instead deliver a rehearsed speech in which the facts are smothered in a layer of protective emotional padding, like "I promise he'll be as good as new really soon, sweetheart."
Try to balance their fear with hope, by saying something like, "I know it's scary, but we are very hopeful that he will get better."
4. Keep your message short, simple, and respectful.
Children have short attention spans, so don't barrage them with too much information at once. Gently inquire about out what they know, or think they know, and correct any misperceptions. Use language they can understand and speak in a patient and respectful way so that they feel comfortable coming back for more information.
And remember: Children are naturally curious. Once the conversation gets going, expect many questions and be prepared to provide succinct answers. 
5. Provide reassurance.
Conclude the conversation by describing how the situation will impact their daily routine, assuring them that much will stay the same – then try to maintain your child's usual routines as much as possible.
6. Remember that children respond differently than do adults to a family crisis.
Children are naturally egocentric and experience news from the perspective of how it will affect them personally. For example, upon hearing that little brother needs an operation, you might expect little sister to respond, "Will he be OK?" but instead she says, "But I'll still be able to go to Sophie's birthday party, right?"
Similarly, don't be surprised if, upon hearing the news, your son keeps right on practicing ollies on his skateboard. That does not mean he is unconcerned or lacks empathy; he may be just signaling that he's not yet ready to talk about it.
If what comes out of your child's mouth seems heartless – or if they don't initially say much at all – don't be surprised, and don't overreact. The child's concern will manifest itself when the child is ready.
7. Teach the Jewish value of bikur cholim (visiting the sick).
Children are passionate, enthusiastic, comical, and beautiful to behold, with a unique ability to lift a patient's spirits with a visit (whether in-person or virtually). Don't deny them the opportunity to practice the Jewish mitzvahmitzvahמִצְוָהLiterally, "commandment." A sacred obligation. Jewish tradition says the Torah contains 613 mitzvot Mitzvot refer to both religious and ethical obligations. of bikur cholim (visiting the sick).
These helpful videos and discussion guides can prepare parents to talk to kids about why it's so important – and so Jewish – to visit the sick.
8. Invite children to be helpful.
When dealing with illness, a main cause of anxiety and depression for patients as well as those who love them, is the feeling of a loss of control – the same is true for children.
The way to counteract helplessness is by being helpful. Parents can lift a child's spirits by giving them ways to feel in control; for instance, by helping to care for the patient or assisting with household chores.
If you want to give your child a sense of agency, the way you ask is helpful. Instead of saying, "I can really use your help right now," you might say, "Hmm. I'm wondering what we could do to cheer up Grandma when we FaceTime with her this afternoon. Any ideas?"
Or a parent could say something like, "If we want to cheer up Daddy without going into his bedroom, maybe we could slip a note or a drawing under the door, or hold up a message on a stick outside his window. What do you think?"
Children have the power to lift our spirits during a health crisis. The love they share can bring joy to the person who is ill while rewarding your child, too, with the inherent joy of engaging in a loving act of healing.
For more ideas for raising the spirits of loved ones who are ill, see "5 Tips for Visiting the Sick with Your Kids" (applicable to both in-person and virtual visits).