Image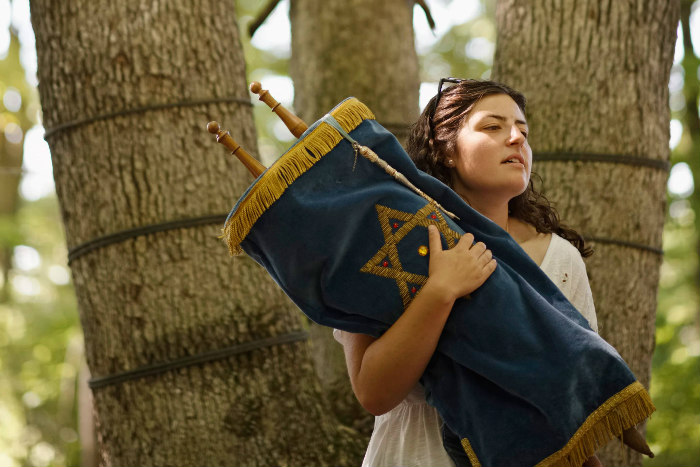 What's so special about going unplugged at Reform Jewish summer camp? We interviewed Louis Bordman, former director of URJ Eisner Camp in Great Barrington, MA, to talk about this camp-wide policy.
ReformJudaism.org: What is the cell phone policy at Eisner Camp?
Louis Bordman: For us, it's Eisner unplugged. No cell phones, that's the longstanding policy of all Union for Reform Judaism summer camps. At Eisner, we also prohibit handheld games or any touchscreen devices. Our only permissible electronic devices are MP3 players.
Why do you believe cell phones and most electronic devices should be banned at camp?
Kids come to camp to be with friends and to learn how to navigate, mediate, and integrate friendships. The best way to do this is by talking and hanging out together. They cannot truly connect if they're chatting on the phone or online, playing a solitary game, or watching their own movie.
We also find that campers need separation from their families and friends to be able to stand on their own two feet and make new friends on their own terms. If children have cell phones, instead of talking to a bunkmate about their fears or their joys, they're likely to text or call a parent, which ultimately undermines their ability to gain the very self-confidence and independence that their parents are sending them to camp to attain. Constant contact with parents deprives them of discovering that they are capable of finding the inner strength to overcome their anxieties without relying on a parent to tell them, "You're strong enough. You can do it."
In short, at home, the parent strongly influences most decisions, whereas at camp, we give children the space to make their own choices. Campers are encouraged to participate in activities of their choosing and to not necessarily follow what other campers are doing. They know exactly where to go for what they need at camp: food - chadar ochel (dining hall), skinned knee - mirpa'a (dispensary), hurt feelings - a friend or a counselor. These learned skills give them a strong sense of independence, self-awareness, and "freedom" that can't be replicated at home. Also, camp provides a safe environment for them to talk through issues such as peer pressure and Jewish identity with trusted young adults serving as their counselors, rather than their parents.
How did families first respond to the cell phone ban?
Phones were never allowed at Eisner; the policy was just not strictly enforced. When we first began to enforce it, I followed the protocol I use any time we're going to make a significant policy change: I gave the campers and parents a full year's notice. People need to be warned about changes in procedures because camps are founded on tradition; in camping terms, if you have done anything more than once, it is the tradition, and you do not easily change a camp's tradition. It was also important to fully explain the philosophy behind the new cell phone policy, which helped to garner support.
Parents want their children to be playing outdoors, praying, learning together, and becoming part of a community at camp - and they never want to be the "bad guy" - so most applauded us for taking a stand. And nowadays when prospective families on camp tours hear about our electronics policy, the majority are truly grateful. Long-time camp families are very supportive as well; Eisner's camper return rate is 93 percent, the highest in the nation, not just in Jewish camping but camping in general. And our average retention rate is 6.7 years.
That said, the cell phone policy has cost us a few campers over the years, because some parents have a strong need to speak to their child at least once or twice a week. In most cases it is the parents who have the urgent need for contact, rather than the other way around. Some parents will just try to get around the rules, sneaking in phones or giving their children two phones - one broken and one that works - so that when we go around and collect "anything you forgot to give to your parents," the child turns in the broken phone.
We do understand that many parents feel the need to know that their child is safe. So every day we post about 500 digital photos of general goings-on at camp for families to see. Now, with 500 pictures, parents are not going to see pictures of their own child each day; odds are, as the days roll by, there will be an occasional photo of their son or daughter. Sometimes parents have actually paid their child to jump in front of the camera to increase their chances of being seen - $1.00 per image!
What happens if you find a camper with a hidden cell phone?
We consider this a serious violation and send the child home for a minimum of three days. This is our way of saying integrity is important. It also sends a strong message to parents that the camp rules are meant for them too, a message not lost on the children.
How does being unplugged from the outside world impact campers' Jewish identity?
At camp, we open a world of Jewish possibilities. Each child has the opportunity to make his/her own decisions about the level of participation in Jewish life, whether wearing a kippahKippahכִּפָּהA head-covering often worn during worship and while in a sanctuary, although some people choose to wear a kippah all the time; plural: kippot. In Orthodox communities, only men and boys wear kippot, while in liberal Jewish communities some women and girls choose to wear kippot.  Also called a yarmulke (Yiddish) or skullcap.   , wrapping arms around friends during havdalahhavdalahהַבְדָּלָהLiterally, "separation." The Saturday night home ritual that separates the Sabbath from the beginning of the new week. The ritual uses wine, spices, and candles to transition from Sabbath to the weekdays. , or jumping up and down during song sessions. By being unplugged from the outside world, campers have the freedom to discover their own Jewish voices and talk about what is truly important in their own lives.
Do any campers ever tell you how liberating it is to be unplugged?
Yes. I can't give you any names, because that would be a very unpopular, uncool thing to admit. But you can see the liberation on the campers' faces and hear it in their excited conversations with one another.