Image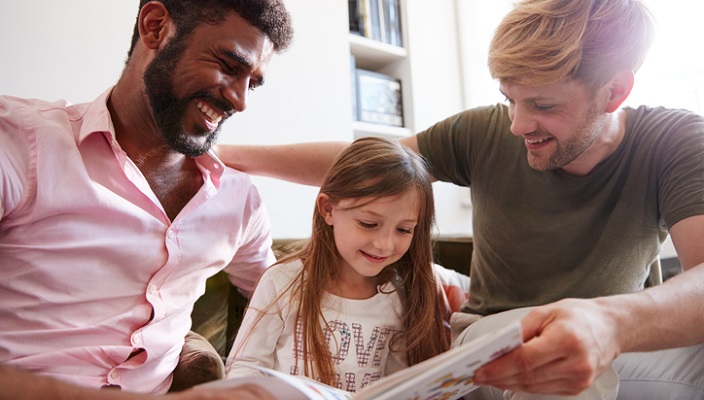 So many of us who identify as LGBTQ+ grew up with little to no queer/trans representation in the media we consumed. While there is still a long way to go in normalizing LGBTQ+ identities in children's media, kids can now see themselves and their families represented in many ways, including in the books they read.
We've compiled six picture books by Jewish authors and/or about Jewish children that affirm LGBTQ+ families. These books are perfect for children of any identity, to either affirm their own or learn about others'.
1. "Heather Has Two Mommies" by Leslea Newman, illustrated by Laura Cornell
First published in 1989 with illustrations by Diana Souza, "Heather Has Two Mommies" is one of the first widely published children's books to feature two parents of the same gender.
While the title gives away the gist of the story, this groundbreaking children's book (newly updated for today's generation) by Jewish author Leslea Newman also honors many different families with two fathers, stepparents, a grandparent who's raising a child, etc.
This book beautifully showcases that there is no "typical" family structure and that what truly matters is the love that connects them.
2. "The Flower Girl Wore Celery" by Meryl G. Gordon, illustrated by Holly Clifton-Brown
Emma gets to be the flower girl at her cousin Hannah's Jewish wedding, but she has a lot of expectations that don't turn out to be true. She thinks that there's going to be a ring bear, not bearer, that she has to wear a dress made out of celery (instead of a celery-colored dress), and that Hannah is marrying a man – only to meet her bride instead!
While this book adorably explores the subverting of children's expectations, it also honors their ability to appreciate the love that two people of the same gender can have for one another.
3. "Ezra's BIG Shabbat Question" by Aviva L. Brown, illustrated by Anastasia Kanavaliuk
Written by and about a Black Jew, this book centers on a boy named Ezra who spends a Shabbat asking everyone he knows, from his family members to his rabbi, "Can you tie a knot on Shabbat?"
While this book isn't predominantly focused on LGBTQ+ characters, at one point, a variety of families are seen at Ezra's synagogue, including a family with two dads. This is proof that queer families don't always have to be front and center to show how important they are to communities; sometimes, they can just exist.
4. "Is That for a Boy or a Girl?" by S. Bear Bergman, illustrated by Rachel Dougherty
As many of us have come to understand lately, there are no "girls' toys" or "boys' toys"; there are just toys. This book by Jewish author S. Bear Bergman is about a group of kids who find that out themselves after having been told they can only play with toys that "match" their gender.
5. "The Purim Superhero" by Elisabeth Kushner, illustrated by Mike Byrne
Written as part of an initiative sponsored by Keshet to create Jewish children's books with LGBTQ+ characters, this charming story is about a boy who wants to dress as an alien for Purim while all of his friends are dressing as superheroes.
Who does Nate turn to for advice? His two dads! This story not only features a kid with same-gender parents but also teaches an important lesson about standing out and being yourself.
For a bonus, check out our review of and discussion questions for this book, created by Reform Jewish educators.
6. "The Last Place You Look" by J Wallace Skelton, illustrated by Justin Alves
While this book is set around Passover, it's perfect for any time of year, including Pride Month!
Bubbie Rose and Bubbie Ida Flora are hosting the family Passover seder, and after the seder, the children go hunting for the afikomanafikomanאֲפִיקוֹמָן"Dessert" (Greek); matzah is the official "dessert" of the Passover seder meal. During the seder, the children traditionally "steal"and hide the afikoman, and it must be redeemed by the seder leader. , but it's nowhere to be found. It turns out (spoiler!) that, as Bubbie Rose assured, it's in the "last place" they looked for it.
This story features both same-gender grandparents and a racially diverse family and showcases what everyday Jewish families can look like.