Image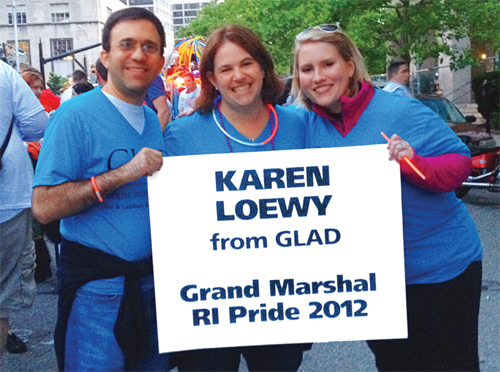 We are at an incredibly exciting moment in the movement for marriage equality for same-sex couples in the United States. Since the beginning of 2013, we have seen the United States Supreme Court strike down the core of the federal Defense of Marriage Act (DOMA) and rule on Proposition 8, restoring the freedom to marry in California; three more states enact marriage equality legislation over the course of a few short weeks (after years of work by advocates on the ground); and public opinion polls continuing to show well over majority support for the freedom of lesbian and gay citizens to marry.
The story of how we got here reads very much like those of the civil rights movements that have come before: working to change both the law and the hearts and minds of the general public through engagement with every branch of government, coalition building, and people sharing their own stories with neighbors, relatives, friends, and co-workers—a relentless mixture of labor and progress and setbacks.
I became a part of this work precisely because it is the civil rights movement of our time. I grew up steeped in the social justice legacy of the Reform Movement—a product of my home congregations, Greene Family Camp, and Kutz Camp; an active NFTYite; a leader of the Reform chavurah at Brandeis University; and a legislative assistant at the Religious Action Center of Reform Judaism. I inherited that legacy from a family immersed in commitment to tikkun olam, including from my grandfather, who lived by the words of the prophet Micah that hung prominently on his wall: "To do justly, to love mercy, and to walk humbly with your God." All of this led to my decision to go to law school and pursue cutting-edge civil rights work.
Having moved to the Boston area in 2001 after my husband's ordination, I landed a dream job at Gay & Lesbian Advocates & Defenders (GLAD), working for the civil rights of lesbian, gay, bisexual, and transgender (LGBT) people and those living with HIV. I had been there fewer than two months when we filed the Goodridge case, which would eventually end the exclusion of same-sex couples from marriage in Massachusetts. At the time we filed, no states allowed same-sex couples to marry, previously successful litigation in Hawaii and Alaska had been undone by constitutional amendments, the Vermont legislature had just invented civil unions to avoid having to extend full equality, and DOMA had been on the books for five years. The landscape was hardly hospitable, but the public conversation had already begun about who LGBT people and families are, and the real harms they experience by being denied the protections, obligations, and recognition that only marriage provides.
After the groundbreaking Goodridge decision, the opposition was immediate, both locally and nationally. Opponents began multiple (ultimately unsuccessful) efforts to prevent marriage licenses from being issued and to amend the Massachusetts constitution, 13 states passed amendments to their state constitutions in 2004 alone, and President George W. Bush called for a federal marriage amendment in his State of the Union address. For four years, Massachusetts stood alone as a marriage equality state, but slowly the tide began to turn. Courts led the way, with positive rulings in California and Connecticut in 2008, followed by Iowa in 2009. Though there have been steps backward along the way—Prop. 8 undoing the court's ruling in California and the unseating of the Iowa Supreme Court justices, to name just two—the movement has achieved marriage equality victories in legislatures (Washington DC, New Hampshire, Vermont, New York, Rhode Island, Delaware, and Minnesota), and at the ballot box (Maine, Maryland, and Washington). With the Supreme Court's rulings in June, same-sex couples are again able to marry in California, and the federal government can no longer deprive married same-sex couples the thousands of federal spousal protections. Though short of marriage, six other states provide broad protections for same-sex couples as well (Oregon, Nevada, Colorado, Illinois, New Jersey, and Hawaii). This is truly a remarkable change in a very short time.
The progress has required engaging every facet of our society in the conversation about why marriage matters: making the case to courts, elected officials, government agencies, and community leaders; voting for candidates for public office who share the commitment to equality; engaging media to tell the stories of same-sex couples' love and devotion, as well as the harms and indignities they face; and pooling our strength with allies and supporters. I have been so proud of the Reform Movement's leadership on this issue to ensure that supportive voices of faith are part of the conversation, which includes participating in litigation as a "friend of the court"; the testimony of Reform clergy before legislative bodies; and the courageous LGBT Reform Jews who have come forward to show how their love and commitment is harmed by being excluded from marriage, among them Marsha Shapiro and Louise Walpin, plaintiffs in Lambda Legal's New Jersey marriage equality case, and Rabbi Michael Latz and Michael Simon, who have shared the extraordinary ordinariness of their life with their daughters Noa and Liat throughout the legislative efforts in Minnesota.
Much more work is still to be done. Even with these advances, other aspects of discrimination against the lawful marriages of same-sex couples remain. More than half of U.S. states still have constitutional amendments prohibiting marriage equality. Furthermore, the fight for marriage equality is but one part of a movement for the civil rights of LGBT people. But we are clearly on the right track and ready to continue the work.
Karen L. Loewy is a senior staff attorney at Lambda Legal, a national legal organization committed to achieving full recognition of the civil rights of LGBT people and those with HIV. From 2001 to 2012, she was an attorney with GLAD, a New England-wide LGBT legal organization. She is a member of Temple Beth El of Northern Valley in Closter, New Jersey, where her husband, David S. Widzer, serves as rabbi.