Image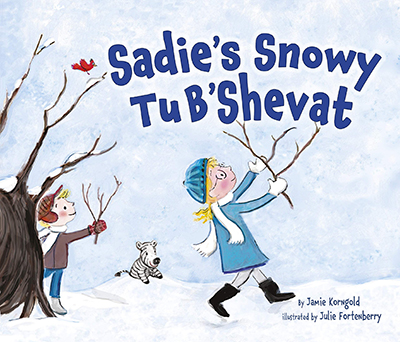 Title: Sadie's Snowy Tu B'Shevat
Author: Jamie Korngold
Illustrator: Julie Fortenberry
Publisher: Kar-Ben
Intended for Ages: 4-5 years
Jewish value:  Bal Tashchit - Care for the environment
Synopsis
Sadie is determined to plant a tree for Tu BiShvat, the birthday of the trees. She imagines one that will eventually grow big enough to hold a swing and yield crunchy, sweet apples. Unfortunately, it is winter where she lives – but she keeps on trying. After Mamma, Daddy, and Grandpa say it is too cold, Sadie's brother happily helps her plant branches in the snow to look like trees. Remembering her own childhood, Grandma suggests planting parsley seeds in order to harvest the tree-like plants in time for Passover!
Highlights
This story shows us how determination and creativity can combine to create a satisfactory outcome. Sadie didn't give up, but she also knew when to ask for help. Think about times you've needed some help to finish a tough job.
Delightful illustrations and clear text. The drawings of Sadie's attempts to dig a hole through the snow into the hard ground are so clever that I wanted to help her!
Discussion Questions and Family Activities
What kind of trees do you have in your neighborhood? Take a walk or a hike in a nearby park to appreciate how trees contribute to the lives of all animals, including humans.
What kind of weather does your area have at Tu Bishvat? The 15th of the Jewish month of Shevat usually falls in January or February on the secular calendar. If you can plant a tree, do it! Otherwise, like Sadie and Ori, consider planting parsley seeds inside near a sunny window.
How many tree fruits can you name? Don't forget the nuts! Make a meal using ideas from these Tu Bishvat recipes, then gather around the table for a Tu Bishvat seder.
Try one of these fun family activities.
PJ Library® provides the gift of free Jewish books and music to families raising Jewish children between the ages of 6 months and 8 years. Sadie's Snowy Tu B'Shevat has been one of the popular selections for the 4-5 year old children who subscribe to PJ Library®. Enroll your child to be a part of this exciting program.