Image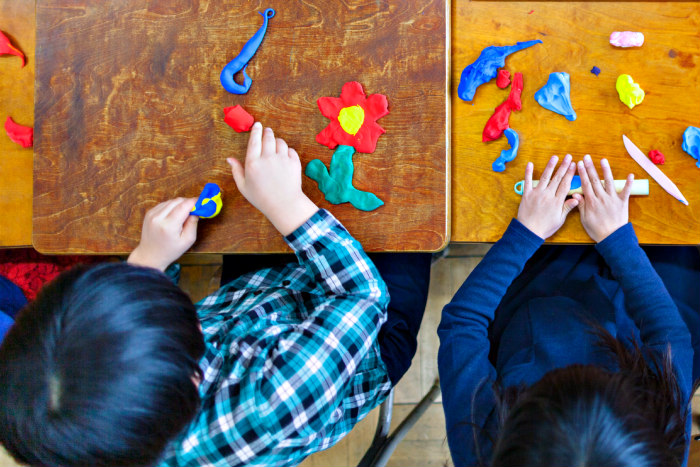 Despite varied beliefs Jews have about how humans came into being, our Torah paints the beautiful image of life being created out of clay (dust of the earth): "God formed humans from the dust of the earth." (Genesis 2:7)
The acts of forming, reforming, visualizing, and shaping recall our Godliness and our own ability to create. As Dr. Susan Biali Haas explains, science also teaches us that working with our hands activates and deactivates  parts of our brains not stimulated by talking or viewing. When we create with our hands, we open up our brain to more natural and creative thoughts, goals, and solutions. Not to mention, it's fun! 
Play is another incredibly important activity that is critical to child development – but also brings enhanced feelings of well-being, ability, and strength to adults. Dr. Stuart Brown explains, "Play strengthens the mind and the body, straightening the path toward social competency, emotional stability, physical capability, and success."
Long story short, play should be on all of our bucket lists: to make more time for playfulness, no matter your age, family structure, or interests.
This Rosh HaShanah, we all need to find new and different ways to connect with the High Holidays and a playdough date might be just right for you and your family. The messy making of the playdough is a wonderful way to engage in play together, and a guided creation can be a wonderful opportunity to start conversations, create goals, and learn about each other.
Here you'll find the ingredients and process, as well as some new year-themed guiding questions to help inspire meaning and dialogue to your play. Shanah tovah!
Required Materials:
A large bowl
A wooden spoon
An easily cleaned hard surface
Boiled water
½ cup flour
½ tbsp oil (I like coconut, but any liquid oil will work)
2 tbsp salt
½ tbsp cream of tartar (can substitute cornstarch or baking soda)
Suggested Materials:
Food coloring
Essential oils or herbs/spices
Gloves (to avoid staining hands with food coloring while mixing)
A mason jar or Ziplock bag for storage
Procedure:
In a large bowl, mix the flour, salt, and cream of tartar.
Add the oil and food coloring to the bowl and stir to combine.
Little by little, add about ¼ cup of boiling water, being careful not to burn yourself.
Mix with a spoon until the mixture becomes too thick, then transfer to a hard surface and knead by hand until smooth.
Finally, knead in essential oils, scents, herbs, or spices to add an aromatherapy/sensory component to your dough.
For cleanup, all dishes can be rinsed in the sink, but large clumps of dough should be thrown away or composted. 
Remember to discuss, not just create! Here are some thoughtful opportunities for creation and conversation:
Make a scene you hope will happen in the coming year.
How are you feeling about the coming year? Create a face with that emotion.
What is one goal you have for this new year? Shape yourself achieving that goal.
Build something that scares you.
Build something that makes you proud. 
Make someone in your family. What did you include in your creation of them and why?
We want to see what you create! Share with us on Twitter, Facebook, or Instagram.
Enjoy spending time together with your family doing activities that build character and express your values? Join the fastest growing community of Jewish families online at RJ On the Go.