Image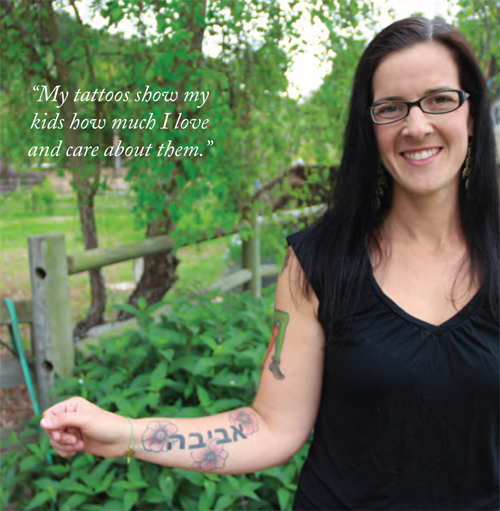 Whenever people ask me about who I am, being Jewish is one of the first things I tell them.
I'm a single mom with two kids and four tattoos: a hamsa (amulet warding off the evil eye) by my back right shoulder blade; the names of my two children, Aviva and Jackson, up my arms; and the word ahava, meaning love in Hebrew, near my heart.
I grew up at Temple Beth Torah (TBT) in Ventura, California, where I became a bat mitzvah, taught religious school, and served as youth advisor. Now, as a parent, I take my own kids to Sunday school at Congregation B'nai B'rith in Santa Barbara, where I'm a member.
To me, tattoos are a permanent way to show the world who I am as a person. Getting tattoos with my children's names — Aviva's is in block Hebrew letters and Jackson's in English — is my way of showing my kids how much I love and care about them. Both Aviva and Jackson look at and touch the tattoos all the time, and feel special. Using Hebrew letters for Aviva's tattoo and English letters for Jackson's represents the dichotomy of my life as a Jew and an American. I didn't circumcise my son but I'm raising my kids as Jews; I don't observe the Sabbath each week but I take Aviva and Jackson to a children's Shabbat service once a month; Jackson's tattoo is decorated with two crabs, because his astrological sign is a Cancer and I believe in mysticism as well as Judaism, while Aviva's tattoo has anemones, which I chose because it's the runner-up to Israel's state flower.
My most recent tattoo, ahavah inside a heart, is a reminder to myself, after going through a hard divorce, that the most important thing in life is love. Now I am applying to nursing school, so I can share that sense of love and compassion with others.
Amber Thompson, 35, is a member of Congregation B'nai B'rith in Santa Barbara, CA.