Image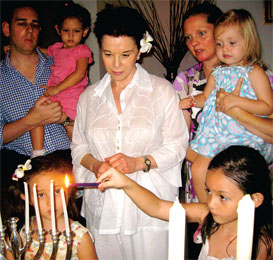 Rabbi Lennard Thal, senior vice president emeritus of the Union for Reform Judaism, has served as visiting rabbi of United Hebrew Congregation in Singapore for the past 20 years.
What excites tourists about Singapore?
Singapore prides itself on offering both residents and tourists the highest quality of life. That experience starts even before you arrive. Singapore Airlines is rated number one in the world for first-rate service, safety, and on-time arrivals; indeed, in my 40+ flights to the city, I've never landed more than 10 minutes later than scheduled. Waterfalls and fresh orchids beautify Changi Airport, and all passengers have free computer access. This clean, "post-modern" city (as it is often described) has no homelessness, no unemployment, and practically no street crime, making it a remarkably pleasant, safe place to visit. Because it is a magnetic center for commerce—some people refer to the "national religion" as "capitalism"—Singapore is a locus of business for many North American companies. Permanent residents can't imagine living anywhere else. Once a taxi driver asked me where I was from, and when I said America, he responded, "What's it like, living in a third-world country?"
Be sure to take a walk through the Botanical Gardens, featuring unusual orchids and other stunning flora that flourish in Singapore's tropical/equatorial climate. Tip: go early in the morning before it gets too hot! On a clear day you can view parts of Malaysia and Indonesia as well as Singapore's harbor from the 57th floor of the iconic Marina Bay Sands Hotel-and chocolate lovers can choose from among the 57 sumptuous chocolate varieties at their famed nightly Chocolate Bar! Stop by the Raffles Hotel to enjoy handsome colonial architecture, doormen and bellmen in period costume, and its Long Bar, renowned for the signature drink, the fruity-flavored Singapore Sling.
Singapore is a shopper's paradise, with very high-end shops and antique stores stocking goods from around Asia. A good day's activity is walking through Chinatown (see the Buddha's Tooth Relic Temple), Little India (see the colorful Hindu Temple), and Arab Street (see the Sultan Mosque), all within five to ten minutes' drive of one another.
What are the best Jewish sites?
I'd begin with the two Baghdadi synagogues—Maghein Aboth on Waterloo Street, built in 1873, and Chesed El, on Oxley Rise, built in 1900, each of which has a large "walk-in" ark containing approximately two dozen Torah scrolls. Many descendants of Iraqi Jews here believe that commissioning a new Torah scroll is the most significant way to honor the memory of a deceased relative. And try to attend services at the Progressive congregation, United Hebrew Congregation of Singapore, where you'll be warmly welcomed. They're only held once a month on Friday nights, so check the synagogue website for the schedule.
What is the local cuisine?
Singapore's signature cuisine, called Peranakan, combines Chinese, Malay, and other culinary influences, typically blending ingredients and wok-cooking techniques from the Chinese (who immigrated here before and after World War II) with spices popular in the Malay/Indonesian community (the indigenous population). Peranakans are descendants of marriages between Chinese immigrants and local Malays.
A good place to sample any Asian cuisine you wish—Peranakan, Malaysian, Chinese, you name it—is one of the city's "hawker centers," where typically 30 or 40 different vendors offer inexpensive and safe food—health guidelines are strictly controlled by the government. "Jewish foods" of all kinds can be found at the local "kosher store," as everyone calls it, near the Maghein Aboth synagogue.
A caveat: As I like to quip, "Travel in Singapore can be a 'broadening' experience!"
Do you have other insider tips?
The landing card distributed on all flights into Singapore is very clear: Anyone trafficking in drugs is subject to the death penalty. Indeed, while much exaggeration is made of local laws against jaywalking and spitting, the government values protecting the quality of life above individual liberties. As one UHC member explained to me upon my first visit, the difference in the attitude toward law-breaking between Singapore and the U.S. is simply this: "In the U.S., crime is against the law; in Singapore, it is simply not permitted."
What synagogue options are there?
Right now there are four or five congregations. Two (Maghein Aboth and Chesed El) are led by Chabad rabbis and populated mostly by the descendants of the Baghdadi Jews who developed Jewish communities from Mumbai to Shanghai in the 19th century. The third is an Ashkenazic Orthodox minyan. The fourth is a primarily French Ashkenazic Orthodox minyan, which began this year; it is too early to tell whether it will be sustainable. Fifth—and most important to the Reform community—is the congregation I've long served as visiting rabbi: the United Hebrew Congregation of Singapore.
What is synagogue life like at UHC?
The minhag is best captured by the oft-repeated refrain by the incumbent president each erev Rosh Hashanah: "As our first president once said, 'Welcome to the Reform-Conservative-Reconstructionist-Liberal-Progressive congregation of Singapore.'"
Our customs are primarily Reform, but Conservative, Reconstructionist, and other non-Orthodox Jews feel very comfortable here, in part because the Jewish communal experience is similar to what they're used to in North America. As the congregation overwhelmingly consists of expats from all over the world—especially from the U.S. and Canada—and since everyone speaks English—although for some it is their second, third, or, at least in one case, fourth language—we use Gates of Repentance on the High Holy Days and Mishkan T'filah for Shabbat and other holidays. For the High Holy Days, American Conference of Cantors President Susan Caro serves as cantor, combining traditional nusach and contemporary melodies (Debbie Friedman, Jeff Klepper, etc.). Participating with likeminded folk on these holidays is particularly meaningful to the vast majority of congregants—bankers, management consultants, hedge fund analysts, lawyers, etc.—who are 10-12 time zones away from the place they consider "home."
By the way, the one piece of liturgy that is a bit unsettling for this community is "the prayer for our nation," as some members are "permanent residents" of Singapore, but the vast majority are not.
How ethnically diverse is UHC?
Very. Of the 140 affiliated households, 15-20 members are ethnically Asian. One longstanding practice at our two communal seder celebrations is to ask the "Four Questions" in as many languages as are native to the various participants. This typically includes Mandarin, Cantonese, Indonesian, Thai, Korean, Japanese, Javanese, as well as Portuguese, Serbian, Russian, Swedish, Afrikaans, and Yiddish—great fun!
The community is also more stable than in years past. Whereas expats generally used to stay in Singapore for three to five years, nowadays many stay on longer, and three families to whom we had bid farewell have since returned. Life is pretty easy here—in addition to the economic opportunities, there are good educational options and quality healthcare. As an active lay leader commented to me, "I'm leaving in two years, and I've been saying that for the last 15."
Can life also be difficult for the Progressive community, given the government's strong hand?
Twenty years ago, when five founding families created a non-Orthodox alternative for themselves, a big challenge was Singaporean law, which does not include freedom of assembly in the way U.S. law does. The founders had to "fly below the radar screen" (essentially utilizing "word of mouth") until 1995, when the government formally recognized UHC as a "society." Since then the community has been able to advertise in various expat periodicals and other venues.
Are there any security concerns?
For a few years, because of security reasons, the American government placed Gurkhas (highly trained Nepalese soldiers who served in the British or Indian army)—sporting daggers on their belts and machine guns at the ready—at the entrance of all American institutions in Singapore. This included the American Club, where UHC services are typically held, requiring all High Holy Day worshipers to pass by these austere looking, unsmiling figures before entering "shul." On the first such occasion I whispered to my wife, "Do we have to be worried if the Gurkhahears that my sermon was not especially good tonight?" Now, the Gurkhas are gone.
Fortunately, Singapore has no history of antisemitism. In a city where Buddhism and Christianity are thought to be the largest religious groupings, with significant Hindu and Muslim populations as well, the Jews seem well-respected and fit into the larger community with ease. Jews here have also held prominent government positions: David Marshall, an Iraqi Jew, served as Singapore's first Chief Minister from 1955 to 1956, and later as Singapore's ambassador to France, Portugal, Spain, and Switzerland.
Come visit. You'll enjoy Singapore.