Displaying 1 - 3 of 3
The poet Yehuda Amichai writes: I don't want an invisible god...  I want a god who is seen... , so I can lead him around and tell him what he doesn't see… ... In this week's portion, Ki Tisa, we reconnect with this unfinished storyline at the beginning of Exodus 32. While Moses tarries atop Mount Sinai, the people down below are losing their patience:
According to Ramban (Rabbi Moshe ben Nachman, or Nachmanides; 1194-1270), this week's Torah portion, Vayak'heil, is properly understood as the necessary reconciliation between the Israelite people, on one side, and God and Moses, on the other, after the devastation of the Golden Calf episode. Ramban reads the opening phrase, "Moses then convoked the whole Israelite community (Ex. 35:1), as Moses rebuilding and healing the community through the inclusion and involvement of all ...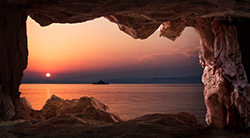 Sacred rhythms and rites fill much of Parashat Emor