Search Results
Displaying 1 - 10 of 900
My mother died on Shabbat Shirah, the Sabbath when Moses and the children of Israel sang while Miriam the Prophet led everyone in dance after crossing the sea to freedom.
Rabbi Jonah Pesner would argue that ultimately Shabbat is a call to action, read why.
Instead of walking into Beth David's sanctuary and settling into the wooden pews, my husband and I perched next to each other in front of my MacBook Air and logged onto Zoom, a video conferencing tool.
Our ancestors turned to that pillar for strength and support in their time of waiting; so too, can we turn for help in these unprecedented times. Here is a prayer that might be recited as we light the Shabbat candles.
What's Real about a Virtual Shabbat Service?
Image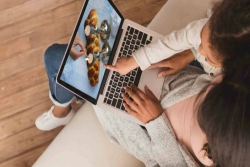 Frankly, I was skeptical about attending services online – but it was the occasion of the yahrzeit (anniversary of death) for my wife's brother, and this was our only option for respecting her wish to recite the Mourner's Kaddish with our Jewish community.
As challenging as these days of quarantine have been, I take comfort in the many ways this strange time of separation have enabled us – however ironically – to come together. Here are a few of the "blessings of separation" I've experienced in the age of COVID-19.
The Book of Proverbs instructs us to "speak up for those who cannot speak...to raise our voices on behalf of the vulnerable and downtrodden." (Proverbs 31:8-9). The individuals who make up America's prison population are isolated, vulnerable, and voiceless.
Just as each of us goes through a process of self-examination during the Days of Repentence in Tishrei, this week is an opportunity to do so on a collective and national level.
Earlier this month, I joined a Virginia synagogue's virtual Shabbat services, led by its youth group teens. Afterward, I composed and sent an email to the congregation's cantors to tell them how touched I was by the service and to express my sincere gratitude to them.
There is some small comfort in the fact that Jewish ritual offers many ways to mark life's significant moments and to acknowledge the complicated mix of feelings that may accompany them. Here are some ideas to get you thinking.