Search Results
Displaying 1 - 10 of 13
The actual Rosh Chodesh celebration is hardly mandated, so there's a lot of room for creativity in designing a ritual celebration. Here are a few ideas for starting your own.
When I left for college my freshman year, I was nervous about exploring a new Jewish community. However, I immediately felt at home as I walked into my university's Hillel's Conservative Friday night services and saw the Siddur Sim Shalom, the prayer book I had grown up with.
I woke up bright and early on Monday morning to head to the Western Wall with my students, participants in the NFTY-EIE study abroad program in Israel. At 7:00 a.m.
An American Teenager Helps Make History at the Western Wall
Image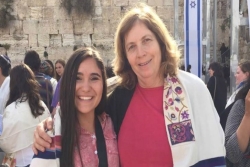 Rarely does a 16-year-old Jewish girl from suburban Massachusetts get the chance to look back on her day and recognize that she helped make history. She didn't just talk about it or write about it; she actually experienced it, and all before 9:00 a.m.
This is a prayer for Jews to love one another.
It finally happened.
After a 26-year struggle, Women of the Wall read from a full size Torah scroll in the women's section of the Kotel.
Acharei Mot, the first of this week's two parashiyot, begins on an unsettling note—a reminder of the death of Aaron's sons and the suggestion that such tragedies might occur again unless the priests take specified steps to prevent them
In this week's double parashah, Acharei Mot/K'doshim, there's a one-sentence reference to the mortal sin of Aaron's sons, Nadab and Abihu, who brought "alien fire" into the Mishkan, which we read about in Parashat Sh'mini two weeks ago (see Leviticus 10:1-7).
As the great flood story begins, we learn that Noah was "a righteous man; in his generation he was above reproach" (Genesis 6:9) and we wonder what kind of compliment has Noah just been paid.
Every year at the time that we celebrate Passover, Jews read this week's Torah portion, Acharei Mot. What is the connection between Acharei Mot and the Passover ritual that coincides with the reading of this portion?