Search Results
Displaying 1 - 10 of 24
Although Jewish weddings may take place on the days in between the Jewish High Holidays, it is generally discouraged because during that period, also known as the Days of Awe, we are focused on the solemn themes of the season.
The High Holidays are a time of introspection and self-assessment in anticipation of repentance, forgiveness, thanksgiving and rejoicing. It is a season of healing.
I was proud to have been at a Rosh Chodesh service yesterday morning in Chicago, IL. I was proud to have been asked to help lead the service, proud to don my tallit and stand before a congregation of people who had come together to pray, celebrate, and sing.
Each year, the voice that speaks to my soul about the contrast between the inward focus of Yom Kippur and the outward thrust of Sukkot grows louder and louder.
Inspired by Yom Kippur services in 5778, this poem reflects one writer's view of the most holy day in the Jewish year.
Recently, I dusted off my shofar and have been brushing up on my shofar-blowing skills to prepare for the upcoming High Holidays. 
Poet Stacey Zisook Robinson shares a reflection about the upcoming Day of Atonement.
This year, the High Holidays fall a month and a half before midterm elections, providing an opportunity for our community to reflect on the past year and make decisions about our future.
The Days of Awe offer us opportunities to consider how we spend our days and what brings us joy. This work is precisely what we need to be doing at this season.
Two Musicians and a Liturgist: Creating Music for the New Year
Image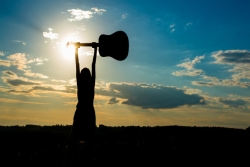 Learn the backstory of how a new song, "Creation Sings," grew from the collaboration among two musicians and a liturgist.