Search Results
Displaying 1 - 10 of 558
What makes for the perfect Purim-spiel? Cantor Marnie Camhi, who serves Temple Beth Miriam in Elberon, N.J., has become a bit of an expert. 
"Homeshuling" Under Quarantine: Fun Jewish Videos for Virtual Learning
Image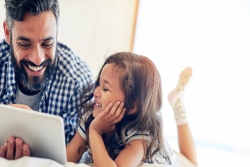 Do you know about all the great Jewish educational videos available from our partners at BimBam? Here are a few ideas for "homeshuling" your kids during this time.
While I pray that the coronavirus pandemic will pass over quickly, that turnaround is unlikely to happen by Passover. With the holiday just weeks away – so soon that Manischewitz and Streit's products are already in markets – now is the time to make backup plans for our seders.
You already know how to host a beautiful, profound, and Jewishly meaningful seder. What you may not yet know, though, is how to re-imagine your usual traditions to incorporate digital content that will enliven this year's virtual rendition of your seder.  
If we are to heed the call of freedom that Passover offers us, we must not close our eyes to the degradation currently taking place right outside our door.
During this surreal period, many of us are trying hard to keep sadness and anxiety at bay, and that's important. It's equally important, though, to remain connected to our feelings. Each of us is giving up so many things this year – and for me, the hardest thing to lose is our Passover seder.
Each year on Passover, we ask "Mah nishtanah," "Why is this night different?" This year, though, we know why: Pesach 5780 is simply unlike any other.
I am always struck when Israelis, especially Jerusalemites, say "Next year in Jerusalem" with the same intention as their Diaspora brethren. Jerusalem surely cannot only represent a physical destination. It must represent more: an ideal, a hope, a possibility.
"Source of Blessing, our lives are in turmoil, our hearts heavy. Help us to cope with this modern plague..."
The uncertainty we're dealing with each day has us concerned about our ability to even make camp happen. We're determined, we're dynamic, and we're clever – but if we're being completely honest, we just really don't know yet.