Search Results
Displaying 1 - 10 of 20
Long before I became a rabbi, I was a DJ and a hip-hop-head. Music always scored my life, and for years I've wondered, "How can that music be harnessed for religious practice?"
Like our ancestors before us, we must again bring worship "inside" and create a sacred space at home while we are in front of our computers.
Both films show us ways to examine our flaws and make amends, either with the people we've wronged or for the ways we've scorned the sacrifices of those who came before us.
We recently introduced the URJ Reflection Project, a tool for the High Holidays that can be found at reflect.reformjudaism.org. Here, we share suggestions of how to use its many ideas with your congregation. 
I grew up going to services. A lot of services. I was adept at counting the ceiling tiles, reaching into the thousands as my grasp of numbers grew more sophisticated. The melodies became part of my life soundtrack; I hummed them as my mind wandered during the rabbi's sermon.
The Unetaneh Tokef has a long list of ways that people die, often violently, a way of shocking us into realizing our mortality. The original prayer, however, can be traumatizing. This version seeks a more empathetic approach to mortality.
So how does one begin the process of forgiveness?
How to Get into the High Holidays State of Mind
Image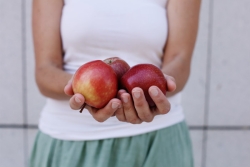 It's a challenge and necessity, especially during this pandemic, to set boundaries between work time and family or personal time, between home office and home. How do we do that, emotionally?
Like many, I'm mourning the chance to "go" to High Holiday services at my synagogue. But I've also had the joy of observing Rosh HaShanah and Yom Kippur at home, so I know this year will be wonderfully meaningful.
The new normal of distanced coronavirus kehilla t'filah (communal prayer) offers new ways to enhance your Home High Holidays. Consider these three previously banned behaviors to warm up your worship.