Search Results
Displaying 1 - 10 of 17
He will take us back in love; He will cover up our iniquities, You will hurl all our sins into the depths of the sea. -Micah 7:19
Holocaust Remembrance and Heroism Day (Yom HaShoah v'tag'vurah, commonly called Yom HaShoah) not only memorializes the six million Jews murdered but honors those Jews who took up arms against the Nazis.
More Than Words on a Page: Social Justice in our Prayer Books
Image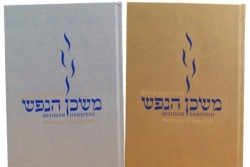 When I left for college my freshman year, I was nervous about exploring a new Jewish community. However, I immediately felt at home as I walked into my university's Hillel's Conservative Friday night services and saw the Siddur Sim Shalom, the prayer book I had grown up with.
On Yom HaShoah, the anniversary of the Warsaw ghetto uprising, we remember the Jews killed in the Holocaust. On April 16, I will remember the six million.
I remember the absence of sound,
deeper than silence
and more lonely,
like the moment just
before Creation,
all stretched and
attenuated, waiting,
except there was no time
to measure 
eternity,
so waiting was
Now.
Cafe Spindel is a quaint café in the center of Bad Segeberg, Germany that used to house a wool-processing factory. Because it was an unseasonably warm and sunny late summer day when I visited, our host, Pastor Martin Pommerening, suggested we sit outside.
Before 1933, life for the Jews in Europe was filled with rich Jewish culture. Jews often lived in shtetls (small Jewish villages) or chose to assimilate into secular society. For the most part, life was good – until Adolf Hitler.
On Holocaust Martyrs' and Heroes' Remembrance Day 2015 (Yom HaShoah), the entire Jewish community mourns the tragic loss of life, the genocide that occurred during World War II, which resulted in the death of an estimated six million Jews.
Acharei Mot, the first of this week's two parashiyot, begins on an unsettling note—a reminder of the death of Aaron's sons and the suggestion that such tragedies might occur again unless the priests take specified steps to prevent them