Search Results
Displaying 1 - 10 of 31
The blessing after the reading of haftarah always sanctifies the day on which it is read. Throughout most of the year, that day is Shabbat, but haftarah is also read on the High Holidays. 
When I started a new chapter in my life as a freshman at Indiana University (Go Hoosiers!), I met people left and right.
As Jews, we approach every autumn with the understanding that a new year is starting and that the High Holy Days are up and coming. In between Rosh HaShanah and Yom Kippur, we observe the Days of Awe, or the Yamim Noraim.
Turn the Torah scroll.
Turn back to Genesis
for the Rosh Hashana reading.
As the Torah scroll is rolled,
one person is on one side
pulling forward -
back to the beginning.
One person is on the other side
releasing the past.
Shabbat Shuvah: From Whom Have You Strayed?
Image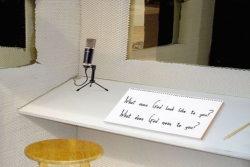 Shabbat Shuvah is the Sabbath between Rosh HaShanah and Yom Kippur. The name is derived from the opening word of the haftarah reading that urges us: Shuvah Yisrael ad Adonai Elohecha, "Return, O Israel, to the Eternal your God."
Yom Kippur, the Day of Atonement, is a concept I came to understand in my early adult years. But this was my understanding during my childhood:
by Rabbi Elisa F. Koppel I'm not ashamed to admit it: I like shoes. I'm not quite obsessive about them, but I probably have more pairs of shoes than I need, and I'm always finding new ones – you know, the ones that would be perfect with that one outfit.
"Wake up, wake up, you sleepers from your sleep, and awake you slumberers from your slumber." (Mishneh Torah, Hilchot Teshuvah 3:4)
When Winter Storm Jonas hit D.C. in January, we were eagerly looking forward to the balmy, humid temperatures of the D.C. summer. Now, with August already upon us, the summer will sadly be over soon.
This High Holidays season, as we think about racial justice and voting rights this late summer and fall, we're also thinking about other key issues that are important to repairing our broken world and combating racial injustice.