Search Results
Displaying 1 - 10 of 14
In the book of Numbers (15:38-39), we read that the Israelites were instructed to "make for themselves fringes on the corners of their garments…that they shall look at it and recall all the commandments of the Eternal and observe them..."
At the conclusion of Yom Kippur years ago, I attended a break-the-fast at the home of old friends. I loaded my plate with a bagel, lox, and vegetables and ambled over to a conversational group, where I stood munching and listening.
When I think of the word "hope," one sentence comes to mind: Hope is a dangerous thing.
I don't remember where or when I first heard the statement, and I'm fairly sure it was intended as a warning, but the idea has stuck with me.
Hope is a dangerous thing.
We encouraged our daughter, Sydney Plovsky, who is a sophomore at Elon University, to read Torah during the High Holidays at her school; growing up, she had been a frequent Torah reader at Temple Emanu
A Major League Baseball committee proposed new rules last month for using instant replay to correct the mistakes of umpires – and I've been thinking about how much easier things would be if we could just apply those rules to everyday life.
We asked clergy across North America which music, books, art, movies and more help them get into a reflective state of mind as they gear up for the High Holidays.
Sure enough, last week I saw the first chatzav flower of the season – which was actually sort of surprising, as it's been several years since the last leap year, so the holidays are "early" in the solar year this year. 
Seventeen Rabbis Travel to India to Prepare for the Days of Awe
Image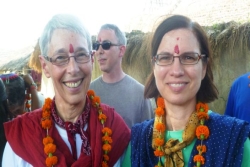 Most rabbis spend the summer months preparing for the High Holydays. This summer, my High Holiday preparation included travelling to Lucknow, India, with 16 rabbis representing Orthodox, Conservative, Reform, Reconstructionist, and Renewal Jewish communities across America.
Say what you will, but I prefer the Rosh HaShanah children's service to the adult one. It's a little under an hour, and it's lighter on the lengthy recitations of the full evening service.
One of the most distinctive dimensions of the High Holy Days in our tradition is that among the major observances of the Jewish calendar, Rosh Hashanah and Yom Kippur are experienced primarily in the synagogue.